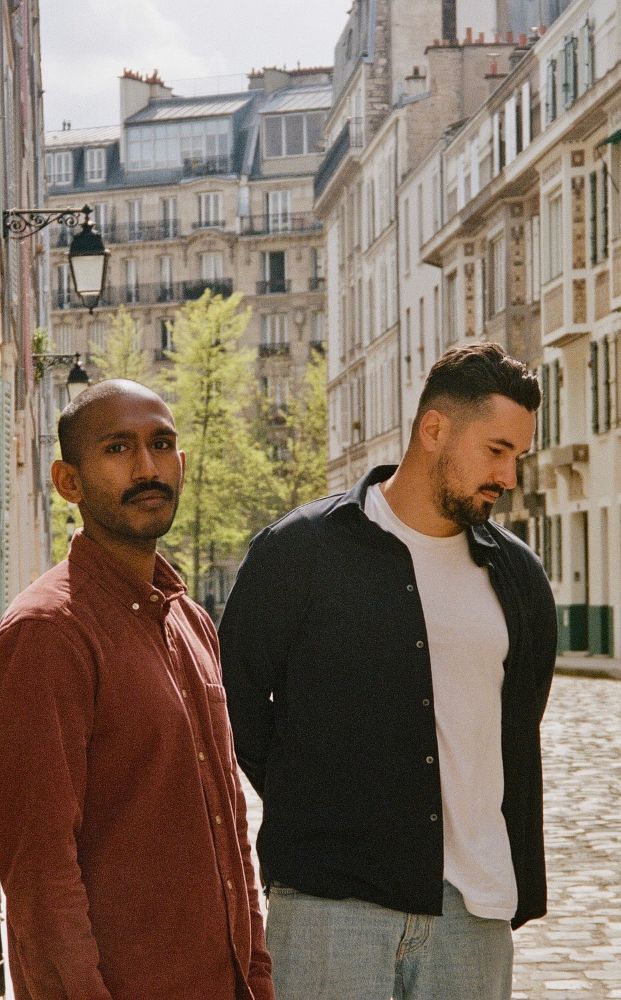 Joyful Melodic Deep House Duo Jaffna release Odyssey LP
Melodic deep house duo Jaffna have released their debut album, Odyssey on the 22nd of October via Enchanté Records. On the album, fans will find the enthralling track 'Roots', accompanied by an animated video created by Pauline Bricout, the video director. Other songs include the previously released singles, 'Oslo' and 'Headlines' which was accompanied by a music video displaying the talents of BMX riders in Paris as well as 'You Got Together' (as an Instagrat). Jaffna have been previously supported by the likes of Dancing Astronaut, EARMILK, This Song Is Sick, Trax Magazine, DJ Mag France, Beaux Arts, EDM House Network and Beware Magazine amongst others, while their EP, 'Ripples' was supported by the BBC Asian Network with Ashanthi Omkar. In total, Jaffna has earned just under 10 million plays across streaming platforms and have previously worked and toured with the well-known French producer Thylacine. 
Currently based in Paris, Jaffna is comprised of Bravin a classically trained pianist who came from Sri Lanka and lived in Germany and London before moving to Paris, as well Stan, a French chef, who is born and bred in Paris. The two began working together in 2014 however, they only released their first EP, Retrograde four years later, in 2018. Jaffna is inspired by the melting pot of the London electronic scene and travel in general as well as the irresistible works of Bicep. In turn, their own sound will relate to fans who enjoy the works of Tycho, Floating Points, Rone and French 79.
Jaffna traverse the territories of music as they embrace the light and friendly, provide a platform for social metamorphosis and complete the scene with a few dark and driven beats here and there. Odyssey is created in the style of old school records: allow yourself to be swept up into the audio pilgrimage of the creative and unexpected. 'Roots' is an ode to travel, where the listener is transported by breathless percussion on the delicately chiselled sounds that invite contemplation of spectacular natural landscapes. The video leaves the viewer asking themselves where the starting point in any person's narrative is and how much does it truly diverge from the rest of the universe and its intricate patterns.
Bravin, of Jaffna, gives us some insight into the LP: For 'Roots', we created a fast-paced energetic track with hints of tribal percussion in the background. We were motivated to try something different and were inspired by the idea of moving forward. The rest of our album is comprised of several deeply personal elements including a voyage of sounds influenced by an Indian classical chant in 'Byzance', while the main "icy" synth ostinato in 'Oslo' was inspired by the typical snowy winter's day of Norway during a visit to Stan's brother. We've also enjoyed sampling voices, including an interview with Idris Elba in 'Hackney Boy' as well as an interview with Dizzie Rascal and others in 'Headlines'.
Director Pauline Bricout tells us about the creation of the 'Roots' video: The meeting with Jaffna began with the animation of the track Oslo. The request can be summed up in one sentence: "Draw me a man". It was then that two characters were born, like Bravin and Stan. "Roots" story follows on from this first collab. Two complementary characters begin their dreamlike parallel journeys, during which they contaminate the world with poetry. In a dazzling finale, these two entities merge to form a whole: Jaffna. My credo: generate emotion. Always narrative, surreal and aesthetic, the clips I make have a recurring central theme: Destiny. Systematically living between confinement and freedom, the protagonists are irremediably drawn to their bittersweet spells.