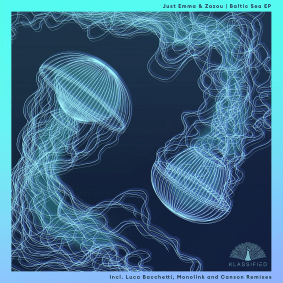 Just Emma & Zazou – Baltic Sea EP
Emotive duo Just Emma are back with another of their escapist EPs this time featuring vocalist Zazou and landing on the fledgling Klassified label with remixes from Canson, Monolink and Luca Bacchetti.
While Just Emma comes from a piano playing background, Zazou is a long time electronic act who has had solo success with his Minimal Lounge project. Together the duo has released on labels such as Katermukke, Hanse Hertz, Plötzlich Music and Connaisseur Recordings, and are now striding ahead with their own imprint at Underyourskin Records and their dark and melodic interpretation of electronic music.
Their superb single 'Baltic Sea' is a haunting track with Zazou's aloof vocals echoing in a sea of reverb. It's a sparse affair with watery melodies and languid drums sinking you into a rueful mood as angular synths ride up and down the mix.
Swiss artist Canson brings global sounds to his music and always plots a real journey with his grooves. His version is an 11-minute epic, with dubbed out vibes and smooth hits helping to get you in a state of hypnosis as the deft chords and soulful vocal sounds all soothe the soul. Acclaimed artist Monolink is at home at Berlin's best clubs, in the Beatport Top 20 and on labels like Embassy One. His unique take is driving and uplifting, with filtered vocals shining through the arpeggiated synths that ride up and down the scale to cosmic effect. Last of all, Burning Man favourite and Italian storyteller Luca Bacchetti remixes 'Baltic Sea' into a sleek and deep house cut that has suspenseful pads keeping you on edge as the soft perc and drums roll on.
Many shades of essential electronic music are covered on this fantastic new EP from Just Emma & Zazou on the ever promising Klassified.
Tracklist:
1. Baltic Sea (Original Mix)
2. Baltic Sea (Canson Remix)
3. Baltic Sea (Monolink Remix)
4. Baltic Sea (Luca Bacchetti Remix)