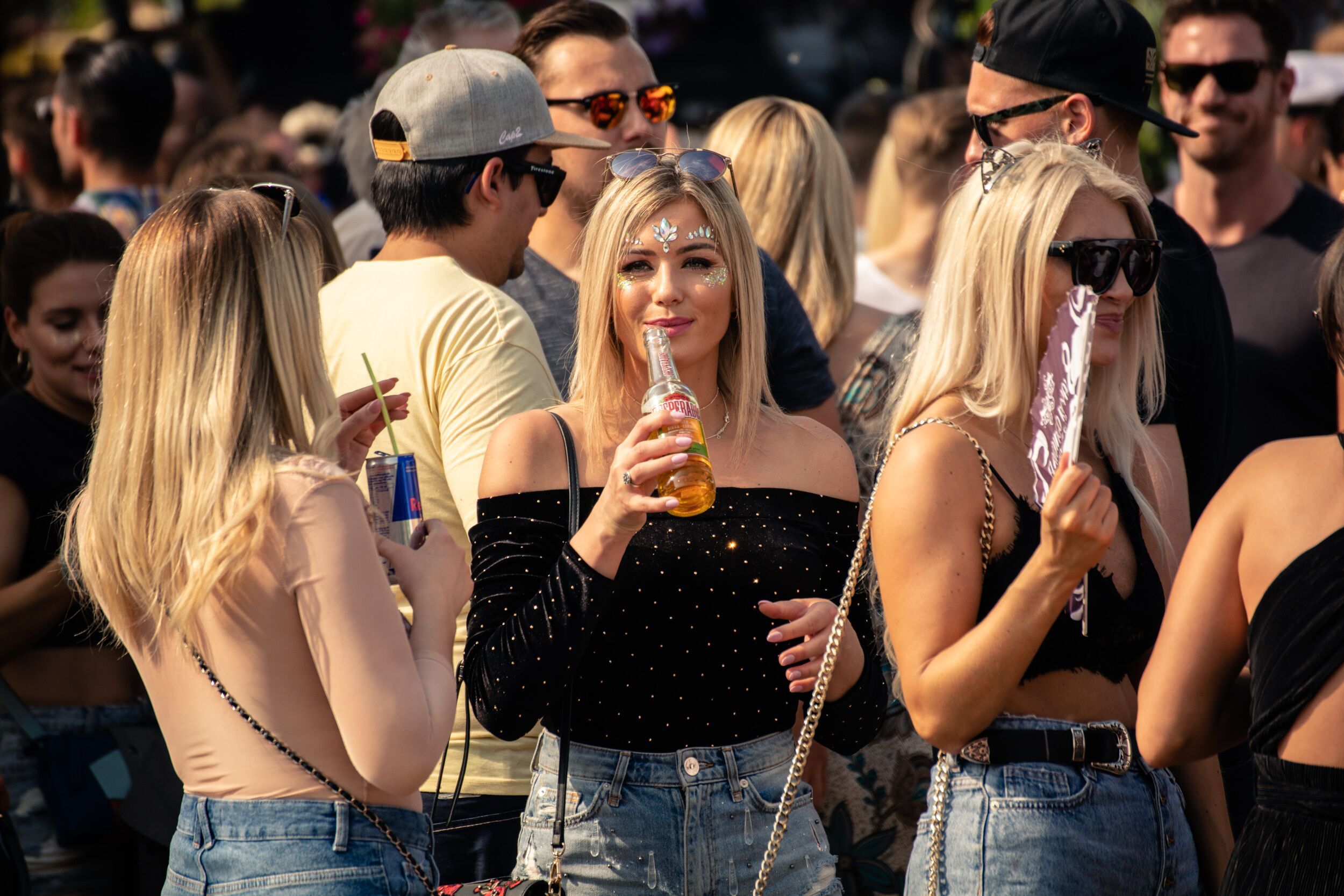 Kiesgrube announces Season Line Up
Kiesgrube Reveals 2019 Lineup For Its "Out of This World" New Location
Seven sun-drenched parties with "out of this world" lineups at an exciting new open-air venue.
Can you feel those summer vibes? The warmer months are now in full swing as Kiesgrube returns for what's destined to be its best sun-drenched season of Sunday open-air events to date.  The motto of the 2019 season is "Out of This World," with the Season Opening party on April 28th marking its debut at the stunning Villenparks Rheinperle in Duisburg. As the sun shines and the bass pumps, thousands will dance with free spirits to a soundtrack provided by Loco Dice, Marco Carola, Jamie Jones, Seth Troxler, Black Coffee, Pan-Pot and many more over the season.
It's an upgrade on every level: after all these years of throwing euphoric Sunday open-air parties, Kiesgrubeis going "Out of This World" at a brand new location that's more beautiful than ever before. Amidst the surrounds of a 6000 square-meter park, the Villenpark Rheinperleboasts an indulgent Mediterranean flair that makes it the perfect place for a sweaty techno throwdown during the summer months. Expect huge emotions, to dance to incredible music and to make new friends with smiling faces from all over the world. Laughter everywhere you look, driving beats and open blue skies. Yes, it's the Kiesgrube that you know and love.
Once again Kiesgrube invites the "who's who" of house and techno, providing the first-class soundtrack. The Season Opening on Sunday, April 28 kicks things off in legendary Kiesgrubestyle. Desolatboss Loco Dice knows precisely what a memorable Kiesgrube experience entails, and he'll be supported by Enzo Siragusa, Ingi Visions and Tapesh. Renowned party brand Elrow is set for a July takeover alongside several other special surprises we've got planned, while appearances from Marco Carola, Jamie Jones, Seth Troxler, Black Coffee, Apollonia, Tiga and Pan-Pot have all been confirmed.
For the partygoers going "Out of This World" with Kiesgrube in 2019, the exceptional beauty of Villenpark Rheinperle in Duisburg offers a magical retreat situated in an idyllic natural setting. The site's fantastic infrastructure means modern bathrooms, plenty of parking plus train connections nearby. In addition, opening hours will be extended for some extra Kiesgrube euphoria.
Kiesgrube is more than an electronic music event – it's a way of life. Defined by exhilaration and excess, it's nothing less than an out-of-body experience. Let yourself be overwhelmed by our open-air summer of emotions.
—
Season Opening
Sunday, 28 April
Desolatboss Loco Dice is a longtime friend of Kiesgrube, making him the perfect headliner to help us begin our new chapter at Villenpark Rheinperle. Playing alongside him is Fuse London head honcho Enzo Siragusa, as well as Dutch supercrewIngi Visions (Julian Alexander and Samuel Deep). It's a sterling launch line up that's rounded out by Kiesgruberegular Tapesh.
https://www.facebook.com/events/283453939265459/
Sunday, 19 May
Stay tuned for exciting news on this special event.
https://www.facebook.com/events/1038158426377567
Sunday 02 June
When Marco Carola comes to play, you know it's going to be a big one. Expect a slice of that special, sweaty Ibiza energy when the Music On boss performs alongside beloved French trio Apollonia. It's a positively stacked lineup that's supported by Dutch stalwart Joey Daniel and Kiesgruberegular Cuky.
https://www.facebook.com/events/331325967738204
Elrow Special
Sunday, 07 July
Elrow is the world's premier provider of decadent party experiences. An odd-fantastic ride through color and music, Elrow is an assault on the senses like no other. Expect Ibiza-style excess in all of its hedonistic glory. Stilt walkers, live performers, endless confetti and production like you've witnessed before. Discover why everyone is talking about the Elrow experience.
https://www.facebook.com/events/568113380344059/
Sunday 28 July
Another of our heavy-hitter parties for the season, there's so much headliner heft we've had to list the DJs in alphabetical order. Hot Creations boss Jamie Jones is stepping away from his DC-10 Ibiza residency to provide the Kiesgrubevibes, while Loco Dice makes a welcome return and champion of the underground Seth Troxler is also ready to show us the love. Joining this A-league cast is Netherlands' William Djokoand Deutsch selector Muallem.
https://www.facebook.com/events/2314186398849399/
Sunday 18 August
South Africa's Black Coffeerepresented a memorable highlight of last year's Kiesgrubeseason and we're delighted to welcome him back. Joining him will be Canada's ever lovable Tiga, who's barely just wrapped 20-year celebrations for his seminal Turbo Records label. Expect Archie Hamilton andMathias Kadento be hitting all the right beats on support duties.
https://www.facebook.com/events/425742101332934/
Closing Sunday
Sunday 01 September
Berlin powerhouse duo Pan-Potare set to pound out the techno, like only they know how, for our final explosive party for the season. Other prominent faces will be Yaya, Benny Rodrigues, Rooz Lee, Jesse Calosso, Lana. But that's not all, because we've got loads of special surprises in store for this event that takes place across a whopping four areas. Stay tuned…
https://www.facebook.com/events/997445297312103/
LOCATION
Villenpark Rheinperle
Villenstraße 2
47229 Duisburg
ARTISTS THAT PREVIOUSLY PLAYED KIESGRUBE
2manydjs, Adam Beyer, Adriatique, Âme live, Andhim, Andrea Oliva, Apollonia, Art Department, Black Coffee, Bob Moses, Butch, Carl Craig, Chris Liebing, Damian Lazarus, Danny Tenaglia, Davide Squillace, Dennis Ferrer, Dixon, DJ Hell, DJ Sneak, DJ Tennis, Dubfire, Eats Everything, Ellen Alien, Enzo Siragusa, Fatboy Slim, Gregor Tresher, Groove Armada, Guti live, Guy Gerber, HOSH, Henrik Schwarz, Hot Since 82, Jackmaster, Jamie Jones, Job Jobse, John Digweed, Joris Voorn, Josh Wink, Karotte, Kollektiv Turmstraße, Loco Dice, Luciano, M.A.N.D.Y, Maceo Plex, Magda, Marcel Dettmann, Marco Carola, Marek Hemmann, Martin Buttrich, Mathew Jonson, Mathias Kaden, Matthew Dear, Matthias Tanzmann, Mind Against, Miss Kittin, Monika Kruse, Mousse T., Nastia, Nick Curly, Nic Fanciulli, Nicole Moudaber, Nina Kravitz, Onur Özer, Pan-Pot, Radio Slave, Reboot, Recondite, Ricardo Villalobos, Richie Hawtin, Rodhad, Seth Troxler, Sonja Moonear, Soul Clap, Stacey Pullen, Steve Bug, Steve Lawler, Steve Rachmad, Sven Väth, Tale Of Us, The Martinez Brothers, Timo Maas, tINI, wAFF, Yaya and many many more.
KIESGRUBE ONLINE
Website:                  www.kiesgrube.net
Facebook:               fb.me/kiesgrubeworldwide
Instagram:             www.instagram.com/kiesgrubeworldwide
Soundcloud:           www.soundcloud.com/kiesgrubeneuss