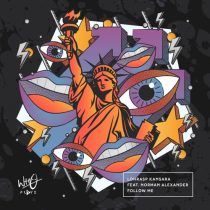 Lohrasp Kansara Shares New Single 'Follow Me' With Norman Alexander
On the eve of Labor Day weekend, world-renowned DJ, producer, and actor Lohrasp Kansara released his latest single 'Follow Me'. The highly anticipated reboot of the classic house single 'Follow Me' is a remake of the famed 1992 original house single by Aly-Us. The track was (re)released under the Wh0 Plays label on September 1, 2023.
It is a balanced blend of emotional, upbeat, and dance with exceptional vocals from New York City-based singer-songwriter Norman Alexander, currently signed to indie label Mlife Records also based in New York. The only remake to have full clearance since Aly-Us has gained resonance and traction across the nightlife industry and entertainment world alike. It was performed LIVE among Manhattan's elite clubs over Labor Day weekend – 'Follow Me' has started a strong stir among New Yorkers. 
'Follow Me' is a mainstream house crossover offering emotional piano melodies and a melodic bassline in reverence to the original track. It has been infused with nostalgic energy and a modern twist creating a groove that will make any person fall in love, whether it be for the first time or all over again. Mesmerizing, 'Follow Me' is meant to inspire and be enjoyed as both Lohrasp Kansara and Norman Alexander take the listener on a musical journey.
Lohrasp worked for four years on the track and has made seven other versions in collaboration with other singers and instrumentalists. It wasn't until he got to work with Norman Alexander that they were able to take the gold behind the song and amplify its brightness. Their brilliant remake of one of the most beloved house tracks of all time – will live infinitely at the top of both artist's discography.
Lohrasp Kansara's heart and soul are imprinted in the remake of 'Follow Me', featuring a revamped beautiful bassline and emotive piano melody that honors the original. Coupled with the unparalleled sound of Norman Alexander's vocals which certify his singularity among singers, 'Follow Me' is beginning to spread like wildfire among listeners as witnessed in New York City over Labor Day weekend.
Speaking about the single, Lohrasp Kansara explains, 
"It's literally indescribable because this song connects with me on so many levels. Since a young age growing up with my American family while far away from my birth mother, this song was a classic staple. Once I began making my own music I always knew I wanted to remake 'Follow Me' but I had to do it proper justice; four years and eight versions later I'm in tears of joy listening to what Norman and I were able to create together."
Speaking about the single, Norman Alexander comments,
"'Follow Me' is timeless, it's both fun and hopeful. It's a call to unite."
'Follow Me' is bound to attract new listeners to both their respective music. The track is available on all streaming platforms and upcoming live performances can be caught during New York Fashion Week at PHD, Lavo, as well as the following week at the Vegandale festival where Rick Ross and Coi Leray are the headliners.