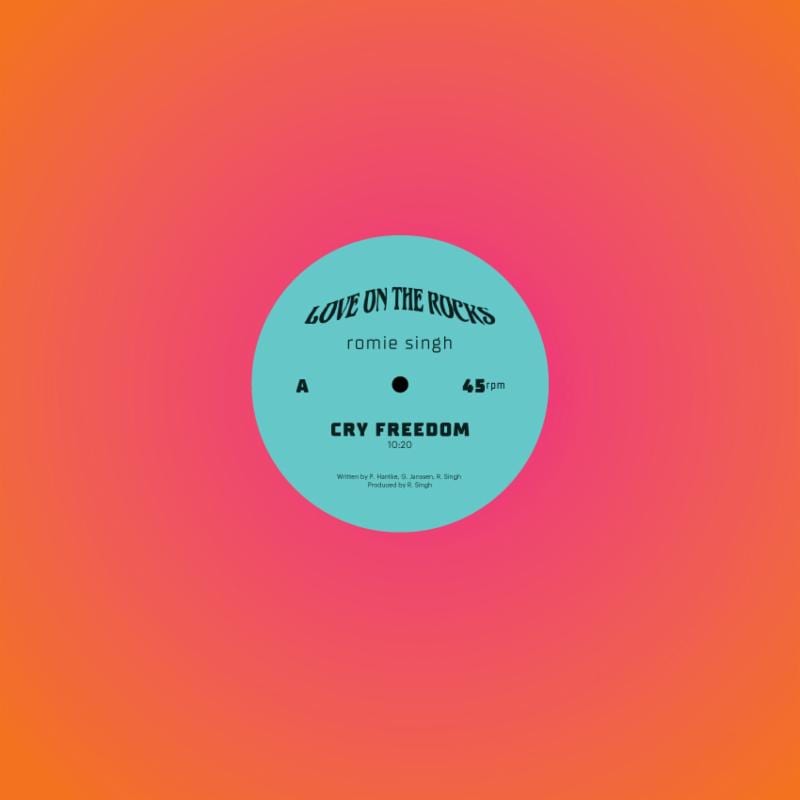 Love On The Rocks have got your summer hit covered with a reissue of Romie Singh's"Cry Freedom"
Love On The Rocks returns with its first release for 2019 and its first-ever reissue, "Cry Freedom" by Romie Singh.
Romie Singh is a singer/songwriter, whose Indian name from her father's side was given to the trio she would come to form in the mid-1980s in Germany, together with Günther Janssen on electric guitar and Peter Hantke on bass. They found each other in the 1980s in Hannover when Romie, fresh from England, joined their already well-established German new wave/jazz-rock band, Caligari. They went straight into the studio in Hamburg to record a contribution to a "Deutsche Welle" (German wave) compilation album produced by Gorilla Musik-Verlag for Ahorn/Teldec in 1981.
While writing and recording in Peter Hantke's studio in Hamburg between 1983 and 1985, the three formed Romie Singh. They continued to compose new songs in English after moving to a permanent studio in Cologne. Their demo tapes attracted the attention of CBS in Frankfurt who offered them the legendary Can Studio to record and the celebrated bass player with Klaus Voorman of the Yoko Ono Band to produce their new music. "Masters" was released on vinyl in 1986 and a maxi single of one of the album's songs called "Dancing to Forget" was released that year and still has a following today.
Romie Singh's decision in 1988 to break with CBS and go independent meant no immediate follow-up album but resulted in a series of self-produced songs which remain unpublished, except for the maxi single "Cry Freedom", which was released on the indie label HeartBeat in 1989. Singh's "Cry Freedom", took its name from the 1987 film about a journalist's fraught attempts to investigate the death of anti-apartheid activist Steve Biko in police custody. Though the song was written as a visceral response to events unfolding in South Africa surrounding Nelson Mandela's release, she combined the lyrics with a children's skipping song to celebrate that the innocence of childhood and the freedom to dance was a human right. "It's hard to love with so much fighting, hard to love with so much war / All they want is gold and silver, all they want is time to love / And freedom to dance."
"Cry Freedom" came to Love On The Rocks founder Paramida while on tour in Los Angeles in 2017. Thirty years after its initial release, the song feels timeless and its message feels more relevant than ever. 1989 was a year of drastic global shift that brought globe-altering change to Johannesburg, Berlin, Moscow, and Beijing. 2019 marks another stage global shift with the tightening of borders, erosion of civil liberties and human rights, and endless beating of the political drums calling for division and war, Singh's lyrics express a universal call that echoes around the world, with no regard for borders, race, colour or creed. The cry for freedom. To live. To love. And that most fundamental expression of joy and unity known in every culture and corner of the world…to dance!
"Cry Freedom" is the 19th release on Love On The Rocks. It is issued as a limited edition of 300 hand-stamped and numbered 12″ vinyl containing the 10-minute, 22-second 'long' version of the track as originally released on the 1989 maxi single. The other side includes an etching based on the original album cover artwork.