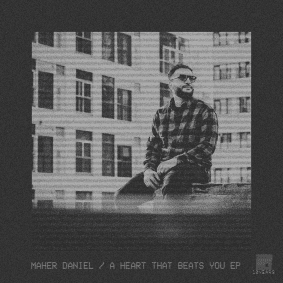 Maher Daniel – A Heart That Beats You
Renowned international craftsman Maher Daniel returns to No. 19 Music with a fantastic new EP that also comes with standout remixes from Art Department, plus label regular JADE (CA).
Daniel has been building his own vinyl only label, The Other Side with a series of slick releases that come after other outings on the likes of Circus, 8Bit and of course No.19 Music. He has taken his label to showcases everywhere from the Caribbean to Beirut and always cooks up infectious club sounds in the studio. Alongside this he has a vinyl only edits series called Creature that has consistently sold out upon release. Aside from his production and DJ work he is a central figure in the industry and has a long standing history with the No.19 crew.
Here he opens with the excellent 'A Heart That Beats You' which is utterly captivating across ten minutes of sleek minimal house. It's a deep track with rubbery drums and spooky synth designs that hook you in and never let you go. Steamy vocals layer in another element that makes it all the more standout. 'Hidden Messages' is another expertly intricate track with slippery synths and drums, minute little effects and drum fills and a restless groove of which Villalobos would be proud.
The first of the remixes comes from label boss Art Department, who is enjoying a superb run of releases of late, including standout records for Cassy's Kwench and The Martinez Brother's Cuttin' Headz label. His version of 'A Heart That Beats You' is a superb late night house cut with warm, colourful chords and a soulful vocal that build the tension until the whole thing drops and sets the club alight. Canadian DJ/producer JADE (CA), a long-time friend of the label, then steps up. Deep, dark bass lines accompanied by solid hi hat patterns sink you into a state of hypnosis and make for another one of this fine talent's trademark tracks.
This is a forward looking house EP of masterfully cultured club sounds.
Tracklist:
1. A Heart That Beats You (Original Mix)
2. Hidden Messages (Original Mix)
3. A Heart That Beats You (Art Department Remix)
4. A Heart That Beats You (JADE (CA) Remix)