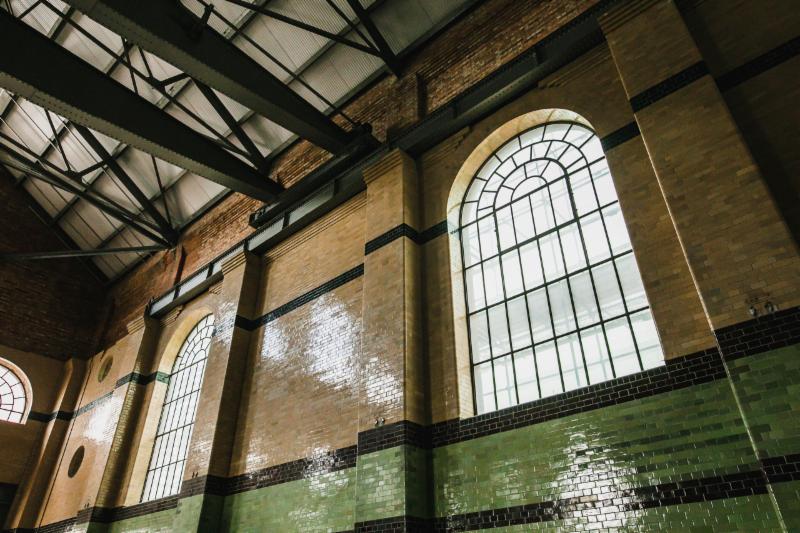 New Event Space, Exhibition London, First Look at Interior
As developments take shape at anticipated new event space, Exhibition London, organisers release architectural renders showcasing plans for the interior of the Grade II listed Dimco East building.
Preparing to open to the public for the first time in history, the stunning Victorian structure was first built in 1899 and was originally used as an engine house for Central London Railways. Iconic TFL aesthetics remain in place with tiled interior walls and red brick lending unique character to the vibrant, 3185sqmvenue.
Unibail-Rodamco-Westfield and Broadwick Venues will breathe life back into the heritage building located at Westfield London.
Event venue specialists Venue Lab, have been appointed to oversee all corporate, brand and filming bookings for the multi-purpose music, event and hospitality venue, with a total standing capacity of 1,500 for corporate shows and seated dinner capacity of up to 750. The event space will span across two floors, the ground floor comprising of the entrance foyer, reception space and green rooms. The main event area is situated on the first floor, with 900 sq meters of uninterrupted floor space and a large stage. A dynamic and adaptable format with multiple spaces, makes Exhibition London an ideal place to host conferences, exhibitions, award dinners, product launches, location filming and high profile live music events.
The Exhibition London brand was created in conjunction with London's Carter Studio whose acclaimed work includes Unilever, Norton and the F1 identity. The interior space has been developed in collaboration with URW Design and world-renowned architect Nissen Richards, whose impressive portfolio includes the V&A Lecture Theatre and Seoul Opera House; with input from Buckley Grey Yeoman who led the Planning and Listed Building Consent. Unibail-Rodamco-Westfield's Design & Construction team is currently delivering the restoration of this iconic West London building.
A collaborative project from Unibail-Rodamco-Westfield and Broadwick Venues, Exhibition London is part of the £8 billion regeneration of White City and brings a welcome new destination for culture to West London.
Bradley Thompson, MD of Broadwick Live & Venues, says: "Exhibition London will be a stunning location for both high profile music shows and private events in West London. Representing an important milestone in the evolution of Westfield London, the unique entertainment hub will enhance the area's cultural kudos. The location is perfect and the building itself is incredible. We are committed to respecting its past and investing in its future; offering fantastic, contemporary experiences against a stunning Victorian backdrop."
Keith Whitmore, Head of Development, Design & Construction for Unibail-Rodamco-Westfield said:"We are passionate about protecting the fabric and heritage of this unique building whilst bringing it into public use. Our Design & Construction team are working closely with Broadwick and the architectural team to restore and repurpose the 120-year-old building to deliver this exciting new entertainment destination at Westfield London."
Claire Pastore, Director of Venues at Venue Lab said: "We're incredibly excited to be adding this impressive venue to our portfolio of unique spaces. The bespoke decorative design, location and plug and play option make it the perfect venue to host a wide spectrum of events from product launches, conferences, award ceremonies, location filming and more. The additional media opportunities across Westfield London's site in conjunction with this dynamic venue is unprecedented in London and set to create outstanding experiences."
Westfield London also provides a wide range of branding opportunities across what is now the largest shopping centre in Europe. The ability to harness the centre's 30million annual visitors and exposure of the destination's public facing spaces and media opportunities in conjunction with a cutting-edge venue is unprecedented in London.
Famously used as the location for the Acme Factory in iconic cult classic 'Who Framed Roger Rabbit?', Exhibition London is scheduled to open its doors for the first time this November for an exclusive season with Ultimate Experience. Venue Lab are taking bookings now for events from January 2020 onwards.
EXHIBITION LONDON
Westfield London
Arial Way
White City
W12 7SL
MORE INFO: