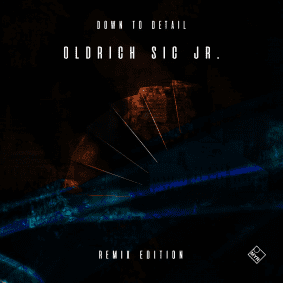 Oldrich Sic Jr. – Down To Detail // Remix Edition
Oldrich Sic Jr. returns to MYR to release an explosive remix package of 'Down To Detail' featuring remixes from Kaiser Waldon and label boss Goeran Meyer.
Oldrich Sic Jr. is no stranger to MYR's growing list of world class contributors including the likes of Juli Lee, Manuel Rodriguez, Ivo Deutschmann, label head Goeran Meyer and many more. Having held many club and radio residences since 1997 and releasing on Revolucion Records and MYR, it's safe to say Oldrich Sic Jr.'s ability to deliver powerful soundscapes and mixes speaks for itself. His newest release comes in the form of an impressive remix package of his hard-hitting release "Well" previously released on the German imprint last year.
Oldrich's Re-Edit of 'Well' kicks things off with emphatic leads, fluttering modulations and pulsating melodies creating an alleviating touch to begin. Kaiser Waldon who has seen much success gather around his releases over the last year and now graces the decks at major events like Ultra Music Festival in Singapore, provides a remix of 'Well' which employs an authentic feel featuring large, full pads creating atmospheric cohesion for the warm, punchy drums, and carefully crafted grooves.
Label boss Goeran Meyer brings a broken down deep-house approach into his remix with his version encompassing intricately crafted percussion with tightly syncopated, rhythmic stabs that gives his track a darker, derelict feel.
Oldrich Sic Jr. 'Down To Detail // Remix Edition' drops on MYR on 12th July 2019 on all significant digital portals as the MYR discography continues to expand its widening array of emotionally constructive dance music.
Tracklist
1. Well (Oldrich Re-Edit)
2. Well (Kaiser Waldon Remix)
3. Well (Goeran Meyer Remix)