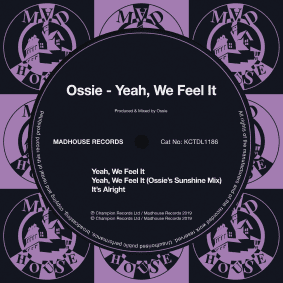 Ossie – Yeah, We Feel It
Madhouse Records welcome back Ossie to deliver his latest single 'Yeah, We Feel It' this July.
Championing a versatile and eclectic approach, London based artist Ossie is known for drawing influences from jazz, hip hop and R'n'B in his productions, consequently leading to releases across a broad spectrum of labels from Exploited and MTA Records to BBE Music, Hyperdub and Wolf Music Recordings. When not producing, Ossie has made numerous Boiler Room appearances and has graced the decks throughout Europe including fabric (London), The Golden Pudel (Hamburg) and Outlook Festival, and he now returns to Madhouse Records following his release 'Unified' on the label in late 2018 with two deep original cuts and a broken beat rework entitled 'Yeah, We Feel It'.
Kicking things off, 'Yeah, We Feel It' calls back to the 90's with a classic leading piano line which is updated by injections of warped chords, spacey atmospherics and soulful vocal stabs. Next up the 'Sunshine Mix' channels the recently ignited broken beat scene, showing off Ossie's ability to balance house with jazz fusion in order to create a high energy, sunny banger. Finishing the package, 'It's Alright' utilises a bouncing bass, vibrant high hats and deep organ-like Rhode chords which point to the spiritual roots of house music.
Ossie 'Yeah, We Feel It' drops on Madhouse Records on 17th July 2019.
Tracklist
1. Yeah, We Feel It
2. Yeah, We Feel It (Ossie's Sunshine Mix)
3. It's Alright