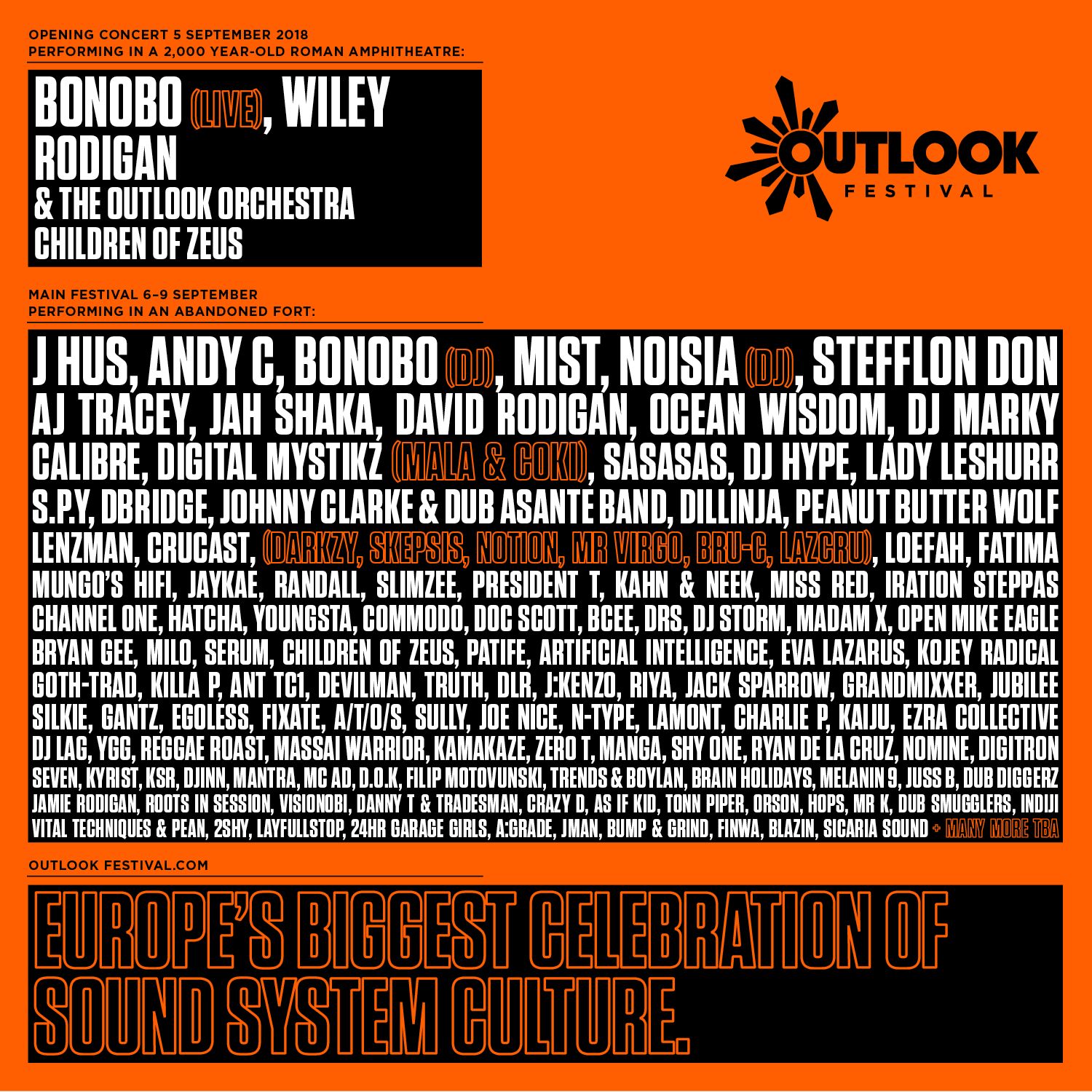 Outlook Festival 2018
For over a decade Outlook Festival has been the world's leading bass music party; a mecca for artists, fans and audiophiles alike. Across the sun-drenched Outlook days and hazy nights between 6th – 10th September, attendees can expect to hear reggae, dubstep, bass, grime, DnB, garage, dub, soul and hip-hop soundtracking the Outlook experience. Tickets are available now from £115.
OUTLOOK FESTIVAL
6th September – 10th September 2018,
Fort Punta Christo.
Second Wave Line Up:
J Hus – Andy C – Bonobo DJ Set – Mist – Stefflon Don – AJ Tracey – Noisia (DJ SET) – Goldie – Shy FX – Nadia Rose – Jah Shaka – David Rodigan – Johnny Osbourne & Soul Stereo – (Fatta) – Ocean Wisdom – MJ Cole – DJ Marky – Calibre – Digital Mystikz – Mala & Coki – High Focus Records – Dirty Dike, Fliptrix, Jam Baxter, Coops, Ed Scissor, Dj Sammy B-Side, Molotov & Talos – Dub Phizix & Strategy – SASASAS – DJ Hype & Eksman – Lady Leshurr – Break- S.P.Y – dBridge – Johnny Clarke & Dub Asante band – Dillinja – Peanut Butter Wolf – Lenzman – Crucast – Darkzy, Skepsis, Notion, Mr Virgo, Bru-C, Lazcru – The Heatwave – Zed Bias – Loefah – Fatima – Mungo's Hifi – Jaykae – Kev Brown – Levelz – Icicle – SpectraSoul – Skeptical – Randall – Slimzee – President T – Kahn & Neek – Miss Red – Iration Steppas – Channel One – Hatcha – Youngsta – Commodo – O.B.F feat Shanti D & Sr Wilson – Iseo & DodoSound – Barely Legal – Doc Scott – Total Science – BCee – DRS – Dj Storm – Madam X – Open Mike Eagle – Bryan Gee – Milo – Pinch – Serum – Children of Zeus – Flowdan – Dubkasm – MC GQ – SP:MC – Patife – El – B – Distance – Chimpo – Spooky – Lowqui – Artificial Intelligence – Jumping Jack Frost – Eva Lazarus – Kojey Radical – Goth-Trad – Killa P – Ant TC1 – Devilman – Truth – DLR – J:Kenzo – Riya – Jack Sparrow – Grandmixxer – Jubilee – Silkie – Gantz – Compa – Blocks & Escher – Egoless – A/T/O/S – Sully – Villem & McLeod – Joe Nice – N-Type – Lamont – Charlie P – Kaiju – Mike Delinquent – Ezra Collective – Dj Lag – YGG – Reggae Roast – Nubya Garcia – Tash LC – Chunky – Jamakabi – Maasai Warrior – Kamakaze – Zero T – Manga Saint Hilare – Shy One – Fixate – Sgt Pokes – Billain – Gardna – Ryan De La Cruz – Nomine – Digitron – Seven – Kyrist – S4U – KSR – Sukh Knight – Beta 2 – Anna Morgan – Poppy Ajudha – Boston – Dub-Stuy Sound – Numa Crew – Elisa Do Brasil – Irah – E3 – Djinn – Mantra – MC AD – D.O.K – Filip Motovunski – Trends & Boylan – Brain Holidays – Melanin – Juss B – Dub Diggerz – Danny T & Tradesman – Jamie Rodigan – Roots In Session – Visionobi – Crazy D – As If Kid – Tonn Piper – Orson – Hops – Mr K – Dub Smugglers – Indiji – Vital Techniques & Pean – 2Shy – Sonnyjim – The Purist – 207 – Koolade – Diyala & Yesh – Anja G & Dr. Obi – Sheco – Brada Selecta – Double B – Kick Kong – Datkid – Pete Cannon – Jman – Concept Of Thought – Daisy Drage – Kannaman – CAPS – Tropico DJs – Boom Bap DJs – Neffa T – Kotei – Noble – Franko Fraize – Jives – B.O.C – Free Wize Men – Layfullstop – Mali Hayes – Inka – Proc Fiskal – Distinct Motive – MC Tempza – DJ Shepdog – Katya Shutnizza – Martha – Real Roots ft. I-Mandala – Sun Of Selah – Transit Mafia – Alley Cat – Natty Campbell – Moony – Standfast – CIMM – One87 – Mc Mota – DJ Ama – DJ Leroy – Cozzie Watt – Blind Judge – Duku – DJ Darko – MC Jolla – Safire – Sphere – T-Bone – Joe NBO – Simon Owen – Luke EP – ViKANE – Kanevol – Brownie – The Bass Race – Breakfake – DJ Tez – Velasquez – Omar Shaker – Hassan Raphael – Saiyan – BMC KRU – Scimmia – Crux – Wendy – Altex – MC Kenna – INC – Maes – Primitive Groove – Kaishi – HVNT – Althia – Thanom – Dalek One – Max Mischief – Bump & Grind -Eda – Chad Dubz – Joe Raygun – KinKai – Catila – Katbrownsugar – The Greys – 24hr Garage Girls – A:Grade – JMan- Bump & Grind – Finwa – Blazin – Sicaria Sound
OUTLOOK FESTIVAL OPENING CONCERT
https://www.outlookfestival.com/amphitheatre
Pula Arena, Croatia || 5th September 2018
LINE UP : Bonobo – Sir David "RAM JAM" Rodigan MBE + The Outlook Orchestra – WILEY – Children of Zeus