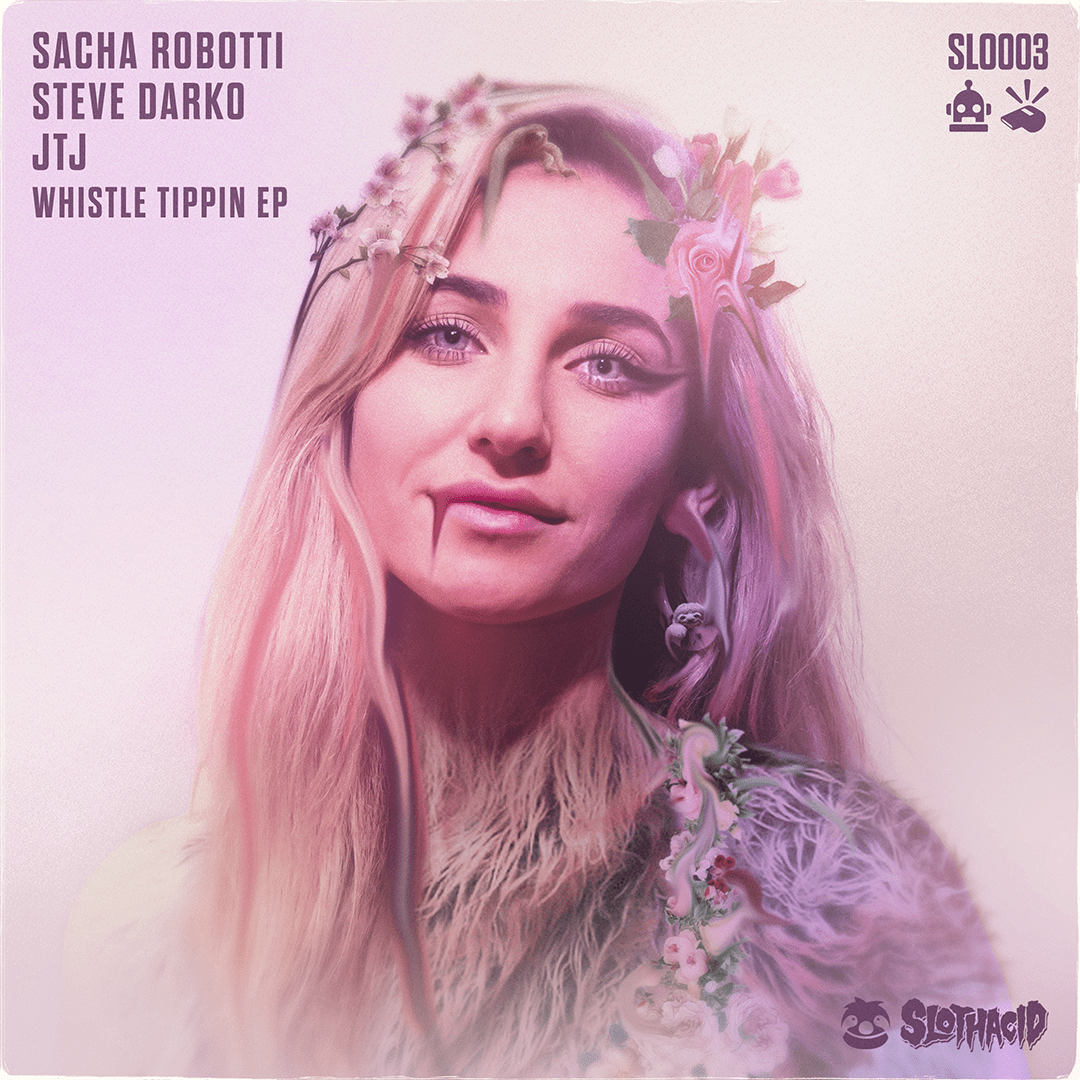 Sacha Robotti, Steve Darko, JTJ – Whistle Tippin EP
As a statement of intent, Sacha Robotti made it perfectly clear through two heavyweight EPs and a 25+ date open-to-close tour that his Slothacid brand is here to stay. With 2019 serving as the warm-up, plans for 2020 are already in full swing as he reveals the next step – a collection of three dancefloor-ready collabs, two with Steve Darko and one with Darko and JTJ, drops today as the Whistle Tippin' EP.
Once again showing the broad sound palette that has been on display throughout Sacha's previous sets and Slothacid releases, the Whistle Tippin' EP comes out swinging with three seriously tight productions. The tongue-in-cheek sample at the center of the title track puts a playful spin on the tough electro undertone, while the more melodic and progressive elements of Eliminate provide the perfect hypnotic weapon for peak time sets. Closing out the EP, The Inside is a darker cut meandering into techno with plenty of mind-bending synths and effects which make it feel like more than just a nod to the mid-2000s breaks scene.
"The third release on my label Slothacid is a three-tracker collaborative effort – a collab between me and the super talented Steve Darko on two tracks, as well as me, my close friend JTJ and Steve on the third one. "Whistle Tippin'" is a funky fun jam featuring an infamous internet meme you might recognize, "Eliminate" can be interpreted as a crossover between Mars Attacks and a squeezed citrus fruit, and "The Inside" is what you could call the dark passenger of this EP. All tracks are club-tested bona fide dancefloor highlights whenever we play them! Enjoy." – Sacha Robotti   
His recent releases have been supported across the board by the likes of Claude Vonstroke & Get Real, Billy Kenny, Shiba San, Justin Martin, Walker & Royce and many more, so expect the Whistle Tippin' EP to do similar damage. With big plans for Slothacid in 2020, Sacha's vision for the brand will see him hitting the ground running in February with the biggest headline show of his career in LA on February 22 – so forget the stereotypes, because this particular sloth isn't slowing down any time soon.
Sacha Robotti, Steve Darko, JTJ – Whistle Tippin' EP is out now via Slothacid
Sacha Robotti
FB: https://www.facebook.com/sacharobotti
IG: https://www.instagram.com/sacharobotti
TW: https://twitter.com/sacharobotti
SC: https://soundcloud.com/sacha-robotti
Steve Darko
FB: https://www.facebook.com/stevedarkomusic
IG: http://instagram.com/stevedarkomusic
TW: https://twitter.com/stevedarkomusic
SC: http://soundcloud.com/stevedarkomusic
JTJ
FB: https://www.facebook.com/jeffthejacker1
IG: https://www.instagram.com/jeffthejackr
SC: https://soundcloud.com/jeffthejacker
Slothacid
IG: http://instagram.com/slothacid
Web: www.slothacid.com