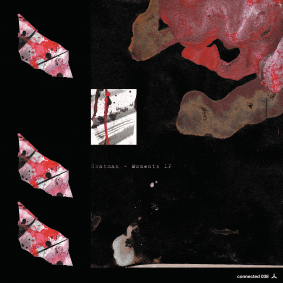 Skatman "Moments LP sampler" – connected (12-07-2019)
Connected's next release is a sampler EP taken from Skatman's essential upcoming studio album, released digitally on the same day.
Skatman is Aziz Haddad, a Tunisian born, Berlin based producer, DJ and label head of Scatcity. Since moving to Berlin, his sound has evolved into an ongoing homage to his particular experience between his current home and his younger years in north Africa. It encapsulates its madhouse aura, where everything seems completely under control but intensely anarchic all at once. 80's synth pop, four to the floor house, techno and cinematic scores have all played into forming his melodic electronic sound. From Scatcity's vinyl covers, to the parties, to the music, Skatman wants to reinstate integrity into the melodic electronic music he loves. It is an approach that has worked with his music appearing in sets by the likes of Dixon, Ame, Trikk and Eagles and Butterflies.
Things kick off with 'Phare', a rugged and tense cut with laser synths shooting over the face of dystopian drums. It's a sci-fi and cinematic track that opens things in fine fashion. The superb 'Plastic Love' shows off more great synth work, with celestial feelings and pithing pads all bringing emotional and musical intensity to the dance floor.
Then comes 'Hypnosis' a track with grandiose synth work and chunky, mid-tempo drums that cut a deep groove. Last of all, 'Moments' is another mini epic, with poignant chords bringing emotive vibes while glowing chords add soul to this futuristic deep house gem.
This excellent EP is just a hint at what to expect from the full LP, which explores even more musical angles and influences.
Tracklist:
1. Phare
2. Plastic Love
3. Hypnosis
4. Moments