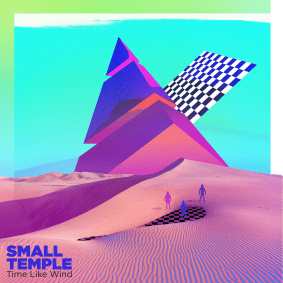 Small Temple – Time Like Wind
Small Temple joins Apersonal Music to release a cosmic single entitled 'Time Like Wind' including remixes from Running Back's Lauer and label co-founder Andrés Vegas.
Barcelona's Apersonal Music, founded by Andrés Vegas and Trujillo have been going strong for nearly ten years now. Steadily building their own roster, Apersonal have discovered refreshing new talents such as Trujillo, Cisco Cisco and Ponzu Island, as well as collaborating with established producers such as Jimpster, Soul Clap, Ron Basejam and Greg Wilson. 'Time Like Wind' is provided by a trio of secret producers who decided to isolate themselves and keep their identity under the radar. After long careers as solo members, the trio unite to simply delve into this new musical journey quoting, "We ask for nothing more than to let the music speak for itself".
'Time Like Wind' kicks things off with warm pulsations floating around enchanting vocals and euphoric melodies. Frankfurt's Lauer who is known for multiple releases on the likes of Running Back, Live At Robert Johnson, Cin Cin, Futureboogie and Permanent Vacation under his Tuff City Kids alias with Gerd Janson, provides two uplifting remixes deploying cosmic synth shoots, weaving italo-disco elements and funk- infused bass grooves. Apersonal co-founder and Venezuelan producer, Andrés Vegas, rounds off proceedings with a remix of 'Time Like Wind', offering undulating waves of tranquillity, alluring strings and smooth riding instrumentals throughout.
Small Temple 'Time Like Wind' drops on Apersonal Music on 3rd June 2019.
Time Like Wind
Time Like Wind (Lauer Remix)
Time Like Wind (Lauer Italo Dub)
Time Like Wind (Andrés Vegas Remix)
https://apersonalmusic.bandcamp.com/
https://www.facebook.com/apersonalmusic/
https://www.instagram.com/apersonalmusic/