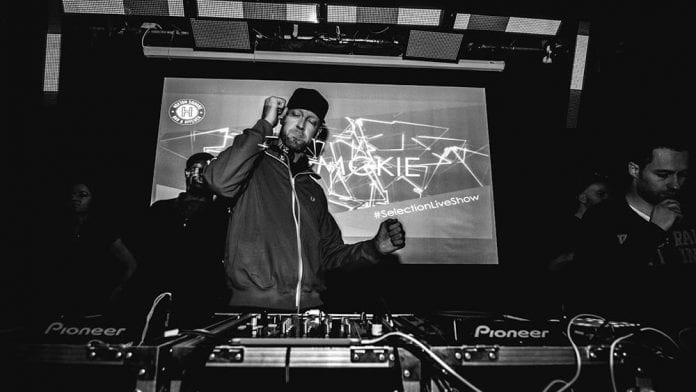 Talking everything 'Eight Zero #22' with Dan McKie…
Dan McKie can now add Steve Lawler, Roog, Claptone, David Morena, Gene Farris, Brett Gould, Ming and Marco Carola to his growing list of supporters, as his four-track EP 'Eight Zero #22' out now on 1980 Recordings. 'Eight Zero #22' looks set to build even further on that growing reputation.
We chatted to Dan earlier this week…
DAN MCKIE 'EIGHT ZERO #22' IS AVAILABLE INTERNATIONALLY TO STREAM AND DOWNLOAD ON SEPTEMBER 27TH 2019 VIA 1980 RECORDINGS.
Hi Dan, welcome to I House U. Where in the world are you right now and what are you doing?
Hey I House U, thanks for having me. I am currently in Barcelona preparing for upcoming trips to Amsterdam for ADE, Andorra for gigs and London for meetings.
Describe your sound for us.
My Dan McKie sound is very house & techno orientated.
It's dependant on my mood and vibe at the time as to what comes out of my head. My latest EP 'Eight Zero #22' on my 1980 Recordings is very Tech/Techno. But I have just finished around 6 new unsigned/unplaced tracks which sound like… proper Tech House (not this commercial tosh that is doing the rounds), Progressive House, Deep Tech and Techno. So, it all depends really. I want to be and hopefully am known for my house & techno versatility. If I am remixing it depends on the request from the label (if they have liked a certain track of mine, I would keep it to that vibe) or the remix parts I am given.
Who's making an impact on your record box right now?
I love the sound of Cuartero, Bushwacka!, These Machines, Luis Meza, Thomas Gandey, Laurent Garnier, Noble North, Mella Dee, Frederick & Kusse and more.
Your new EP, Zero Eight 22, just came out on your 1980 Recordings label. Tell us a bit about the EP and the tracks on it.
I wanted to join the plethora of talent I have signed to the artist EP series on my 1980 Recordings so I delivered 4 tracks of equal dirt and grit. One of them is very tongue in cheek as it nods to a song all parents of any under 5-year-old will know, I won't say much more than that ha. Hopefully the techy techno sound and vibe will grab listeners' attention
You're from the UK but you're based out in Barcelona and you've also spent time living out in Ibiza for a while too. Do you feel that living in the south of Europe has affected your music production or your overall sound in any way?
I am based in London, Ibiza, Andorra, Barcelona. I feel for sure hearing the different scenes has definitely, I wouldn't say affected, but influenced my sound. Years ago, in the mid 00's, I was playing and making electro as that is what was going on in London/UK, then as the years have gone on, the sounds I have heard and fell in love with, to the scenes I have been surrounded by, have shaped my sound to nowadays.
You've been bubbling under for such a long time, why do you feel that now in particular is the right time for you?
This isn't for me to decide really, hopefully this is for my productions to do the talking and the fans/listeners to decide. I have been doing this a long time and I have worked and worked on my sound/production levels so hopefully now I am at a good level to step up and keep the standard high for people to enjoy.
Are there any key releases that we should be on the look-out for in the next couple of months?
I have three new releases coming up on 33 Music with These Machines & Bushwacka! on the remix as well as a cool remix I did for the new 'Down the Rabbit Hole' track on 33 Music. I have another few I am crossing the t's and dotting the I's on so I don't want to jinx them.
Your 1980 Recordings is a hot bed of up and coming talent. Who else in particular should we be looking out for at the moment?
On 1980 Recordings? I love signing talent and I will continue to do so for 1980 Recordings, I have a backlog to schedule but I don't stop signing music for 1980. We have some great releases and remixes coming up from Noble North, Gabriel Dancer, Diezel, DA LO, Dazzla, Steve Linney, Dexter Troy, VicVicVic and more.  
I also have We Are Phonik which is more crossover and/or totally different genres and we have some great releases lined up from Frei, Michael Conroy & Benny Heyman.
As well as running labels, you're the force behind the It's A Promo Thing company. Which artists do you usually work with?
Yes, this I started in 2009 to keep me away from that 9 to 5 and the commute. It's worked! Ha. I have worked many tracks from Federico Scavo, Rowen Reecks on labels from Universal, Sony and many more. We work with commercial & underground electronic music and labels to a very high standard with excellent results.
What tips would you give to up and coming producers looking to get their work into the hands of major radio stations and big name DJs?
Well… use a PR company, not just saying this because I have one, but I used them before I did have one and it works as they have the doors open and the relationships built, they are there for a reason. I would also say get your tracks professionally mastered, as labels and big DJs like a good sounding master. Why put all that time into making a track and have it sounding good to then do you own self master on it. Mastering is an art and if you don't know how to add that middle or the width, then send it to a professional.
You are based in Barcelona some of your time, you must have a good idea of the best places to check out underground house – can you give us some trip advice?
For me I love Macarena, Moog, Red58, Brunch in The Park (all of which I would love to play at), I also like Busfood where my friends run a regular part called 'Paradisco' of which I am playing at on the 20th October. There are always festivals going on across the summer and beyond, of which they have some great line up's.