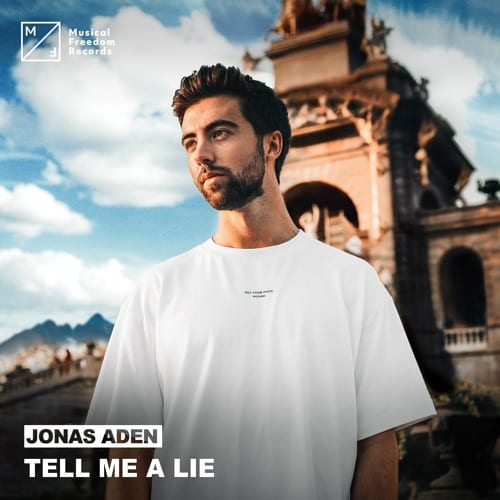 'Tell Me A Lie' Jonas Aden, I want to hear it?!
Jonas Aden has wasted little time ensuring his music has grabbed the attention of the masses, whilst earning serious nods from notable scene selectors in Martin Garrix, Don Diablo and Tiësto – with the latter being quick to the chase to sign the Scandinavian newcomer to his label family. With what marks his third official release under the Musical Freedom banner, Jonas Aden now drops the future house piercer 'Tell Me A Lie' and the affect is sure to be devastatingly good on the dancefloor!
And dancefloors are where Jonas feels most comfortable. So much so, that he recently challenged his followers that if he hit 10k likes on an Instagram post that he would DJ in his boxers. Challenge accepted, 10k likes achieved and now the nude Nordman will be performing in his SpongeBob boxers at the Musical Freedom ADE showcase event!
With his online following increasingly expanding, his YouTube channel alone is already close to 100k subscribers, the digital buzz of Jonas is as vibrant as his own social content. When added with having secured releases on Hexagon, Musical Freedom and STMPD Records in this last 12 months and riding off the wave of his recent collaboration 'Riot' with Brooks that features an hilarious Area 51 inspired themed video, as well as seeing his co-write talents flexing muscle on the Alan Walker and A$AP Rocky record 'Live Fast'. It's fair to say that these present times feel very exciting for one of Norway's brightest shining EDM stars.
Drawing further praise from A-list players such as Oliver Heldens, Afrojack, Hardwell, R3hab and Zedd, who invited Jonas to remix his own '365' collaboration with Katy Perry, Jonas appears to be finding impressive form with his creative output of late. His single 'I Don't Speak French (Adieu)' found popular spins across DJ sets and radio with BBC Radio 1 Dance Anthems giving it strong rotation, whilst 'I Dip You Dip' has over 11.5 million Spotify Streams and climbing.
As passionate about the craft of music video as he is about the art of music itself. Jonas maintains a committed approach to bringing a visual quality to his release through videos that give fans everything from humour to think-pieces. With an aim to put the fun back into the music. Jonas Aden is doing exactly that, having fun whilst creating some of the most exciting music of his career to date…
So no lies…this is Jonas Aden doing what he does best!