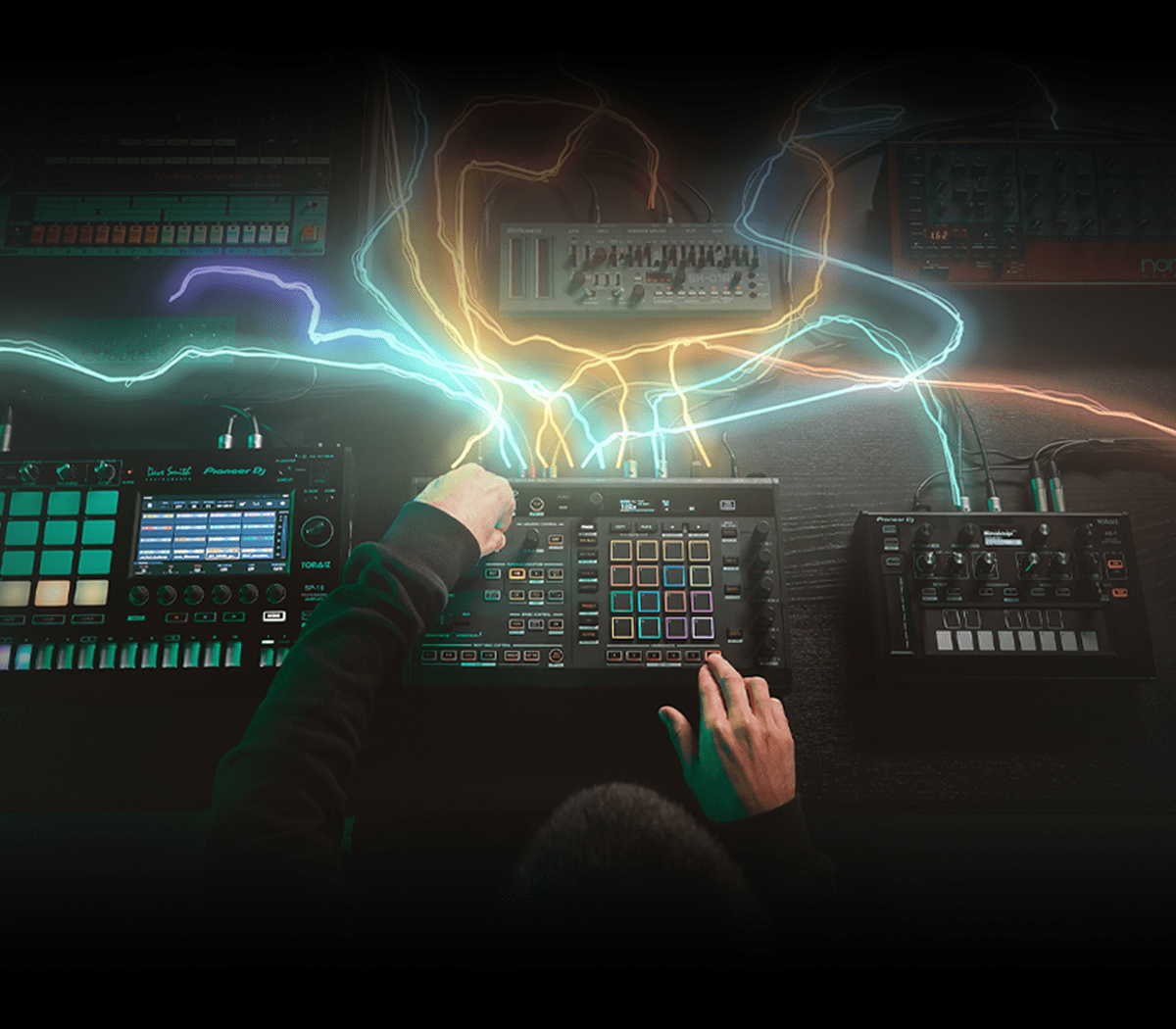 The Heartbeat of Your Setup: Meet the SQUID
Take control of your workflow and make new styles of music with the SQUIDTM. Named for the blend of functionality and creative stimulation it offers, the SQUID (SeQUencer Inspirational Device) is a brand-new multitrack sequencer in our TORAIZTM series of musical instruments and production gear. Connect all your instruments to use the SQUID as the heartbeat of your studio and live setup, and get hands-on with innovative features never seen before on this kind of equipment.
It's easy to start making unique sequence patterns and phrases as soon as you hook the SQUID up to your instruments. The layout of the controls is optimized so you can effortlessly bring your ideas to life whenever inspiration strikes, and the workflow is perfect for on-the-fly music production. All this means you can spend less time looking at the unit's display and more time creating music.
With the first Groove Bend feature ever seen on a production tool, you can really feel the groove and generate original rhythms in real time by simply moving the spring-loaded slider to change the trigger timing. Use Running Direction to create different phrases by changing the playback direction of sequence patterns you've programmed on the 16 pads and fluctuate the playback speed of sequences whenever you want using Speed Modulation. All of these features contribute to a fresh, nonlinear way of making music that breeds creativity and helps you stumble across things that sound great.
When you've created a phrase you love, you can use the SQUID Manager to back it up, along with all your projects. SQUID Manager is a free dedicated application that enables you to quickly import/export sequence patterns between the SQUID and a PC/Mac.
Reaching out into your setup, the SQUID simultaneously controls up to 16 instruments with its master pulse. It keeps everything in sync, from your DAW to hardware instruments such as the TORAIZ AS-1 monophonic analog synthesizer and the TORAIZ SP-16 professional sampler. You can even run modular synths and vintage drum machines/synths seamlessly alongside your other kit.
The SQUID fits perfectly into any studio or live music environment and helps you turn your ideas into music. It's the third product in the TORAIZ series, which offers inspiring tools with unique features you can easily use to create new sounds.

Step Edit section for intuitively creating sequence patterns
---
Have fun creating phrases by tapping the 16 multicolored LED rubber pads.
Set step parameters and play in real time as if the pads were keys on a keyboard, combining various sequence functions such as Interpolation and Harmonizer to help build your sounds.

Phrase arrangement section for rearranging sequence patterns in real time
---
Use Running Direction, Speed Modulation, and Groove Bend to further rearrange phrases you've created in the Step Edit section. Each feature has an optimized user interface so you can intuitively try out ideas as they spring to mind.

Time Warp: save your "happy accidents"
---
Never lose the phrases you make incidentally when you're trying things out. Use Time Warp to audition the previous phrase you created and save it as a new sequence pattern if you like it. There's no need to stress over the workflow of practicing and recording take after take. Instead, feel free to just play around until you hear something you love, then capture it for use in a track or performance.

Multiple inputs/outputs: sync with various instruments
---
In addition to a USB B terminal and Midi terminals for your DAW and hardware synthesizers, you can sync and play with modular synthesizers using the two sets of CV/GATE outputs and CLOCK input/output terminals. DIN SYNC input/output terminals enable syncing with vintage synthesizers and drum machines. Various signals including notes and clocks are mutually converted inside the SQUID automatically, so you can easily expand your creative scope just by adding the SQUID to your current setup.

Import/export sequence patterns via PC/Mac
---
Using the SQUID's dedicated SQUID Manager, you can quickly import and export sequence patterns between the SQUID and your PC/Mac. Easily import a sequence pattern created on your DAW to the SQUID, intuitively arrange it using the sequencer's features, and return it to your DAW. Use SQUID Manager to back up the projects you create on the SQUID by saving them to your PC/Mac.