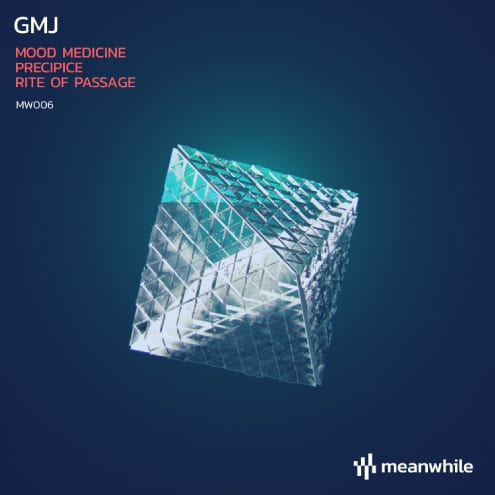 This new EP from GMJ makes 'Mood Medicine' the perfect tonic
As GMJ & Matter shake the foundations of the underground house scene with the continued success of their ever-more powerful Meanwhile imprint, 'Mood Medicine' sees GMJ return to solo duties with a 3-track EP that showcases his inimitable talent.
GMJ's debut solo offering for Meanwhile opens with 'Mood Medicine', replete with his passion for "deep emotive electronic music" the title track bristles with percussive firepower before a seismic kick and bouncing, filtered bassline weaves a magical spell across the near 9-minute piece. White-noise FX builds the tension as a sparkling arpeggio glitters into life at the mid-point onwards, before exploding into the post-breakdown finale with assurance
'Precipice' oozes equal quality with its subterranean bassline and stereo-panned percussive groove. A delayed-motif then makes its way to the fore as subtle note changes add emotion and intrigue. Counterpoint chord progressions through textured pads continue to supply stratified layers of aural atmosphere as the track waxes and wanes with ease and dancefloor know-how.
Carrying on the theme of huge sub-bass phrasing and dynamic rhythmic prowess, 'Rite of Passage' builds on the earworm motif of its predecessor by constructing a hypnotic framework that hits its zenith through a combination of soaring pads and filtered white-noise risers. A gloriously melodic breakdown provides a moment of reflection before the track hits its mark once more in the third movement with GMJ's trademark combination of melody, rhythm and bass providing a wondrous sonic palette.
An artist with an enviable reputation and production portfolio, Gavin Griffin aka GMJ has scaled the north face of underground dance music with aplomb, heading for the summit with a distinctive and unique brand of progressive house that has positioned him as one of the industry's most in-demand producers of recent years. Able to point to a career trajectory that has seen him perform behind the decks at the likes of Amsterdam's Club NL for Replug's 10th anniversary event during ADE 2019, or close Melbourne's Rainbow Serpent festival with his fellow countryman, collaborator and co-founder of Meanwhile; GMJ's list of achievements grows with each passing month.
Furthermore, since his 2008 debut for Open Records, GMJ has gone on to amass over 350 production credits, forming the backbone of an incredible work ethic that has seen GMJ release his stunning tunes on such celebrated imprints as Balance Music, Replug, Anjunadeep and Hernan Cattaneo's Sudbeat. A steady stream of hits for Balkan Connection and Proton Music have also seen such notable highlights for the latter that include 2017's 'Sovereign Reality', 2019's 'Catharsis' and 'Mystic Sea' EPs, combined with a trio of collaborative offerings with Matter, including 2019's highly regarded twin-track, 'Interscope'. Similarly, the 'Lost in Origin', 'Gauntlet' and 'Eldarin' releases for Meanwhile have lit up the world of music in 2020, and this new EP from the musical mind of GMJ makes 'Mood Medicine' the perfect tonic.
Beatport Buy Now: https://www.beatport.com/release/mood-medicine/3125543