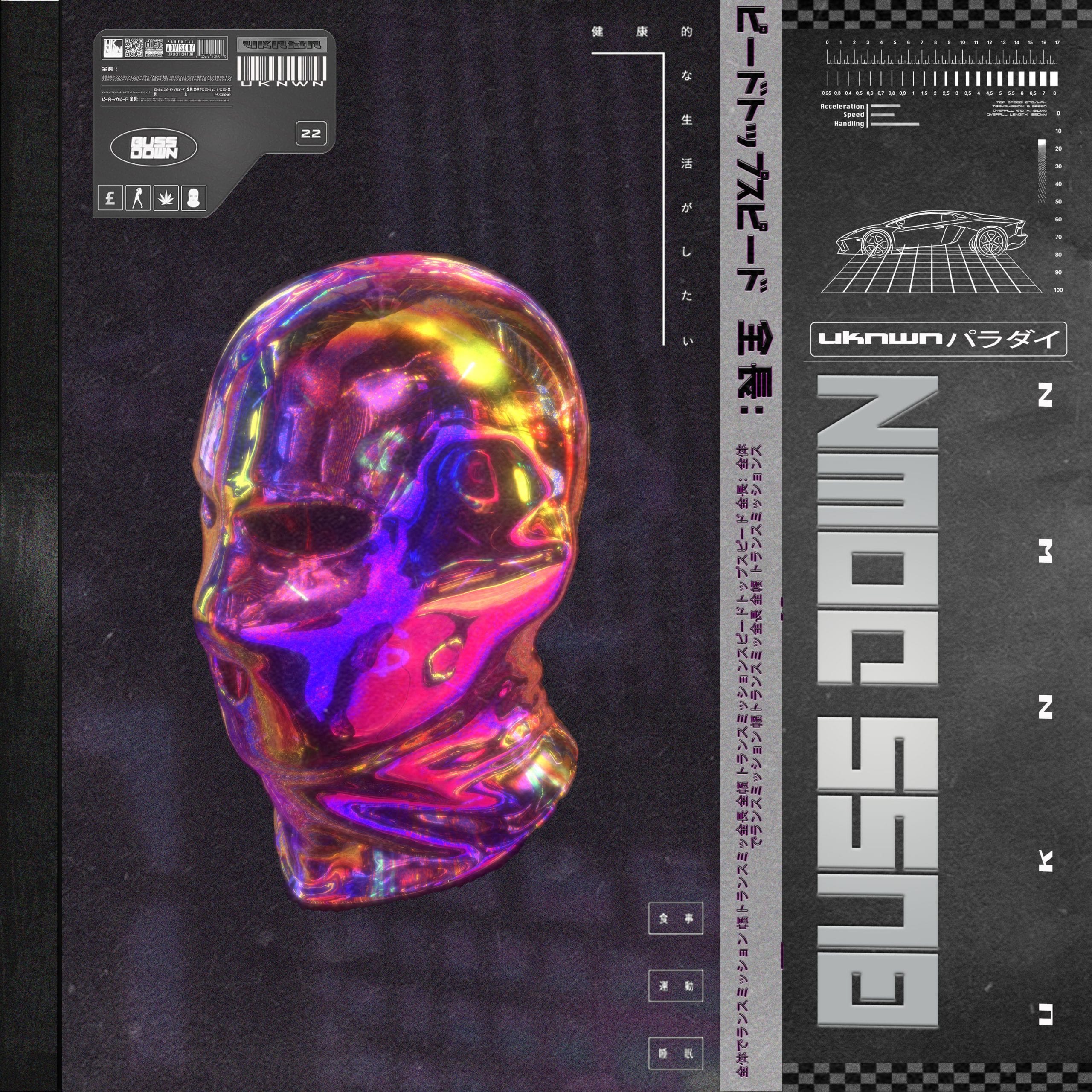 UKNWN Releases 'Bussdown'
15th May 2020, London: Today enigmatic British rapper UKNWN releases new single 'Bussdown'.
Produced by Honeywoodsix and Jaime La Cree, 'Bussdown' is the second track to be lifted from UKNWN's forthcoming 22 Mixtape, (due out in June), and follows the March released single 'Adele' with the accompanying music video directed by Meeks and Frost. In keeping with the signature sound UKNWN has become acclaimed for, 'Bussdown' pairs distinctive melodies with a spacey, summery beat, providing the ideal, escapist backdrop for his trap-orientated, swagger infused bars. "Bussdown is about striving for the best." Says Uknwn. "It's about looking for the best and having the best in life."
The visualiser for 'Bussdown', created by The Midnight Club (who have worked on campaigns for Nike, Adidas and more), follows a Grand Theft Auto inspired theme. A nod to UKNWN's passion for Gaming, this aesthetic will resonate throughout all the forthcoming imagery and visuals for the upcoming 22 Mixtape.
22 will be UKNWN's debut mixtape and sees him collaborate with producers Honeywoodsix, Jaime La Cree, Jay Youngs and Cagebeats. Following UKNWN's independently released eponymously titled debut EP (2017) and Leper EP (2018), 22 is his first long player project to be released via Relentless Records, who he signed to earlier this year, joining label mates Headie One and Frosty.
Through working with some of the UK's hottest underground Trap producers, 22 year old, London based UKNWN has crafted his own distinctive take on the Wavy, Trap sound which has garnered him support from the likes of Complex, GRM Daily, Mixtape Madness and more. Renowned for his elusive persona, UKNWN is an artist, who in his own words is "heard not seen". His trademark balaclava is a tribute to all the misfits and outcasts of the world with whom he identifies: "I don't enjoy being the centre of attention. Genuinely someone who doesn't fit in – I'm an outcast".
UKNWN's 'Bussdown' delivers a further taste of what is to come from his forthcoming 22 Mixtape which is set to cement the British rapper's steady trajectory towards being one of London's most hyped newcomers.
UNKNWN'S 'BUSSDOWN' RELEASED VIA RELENTLESS RECORDS IS AVAILABLE TO DOWNLOAD/ STREAM NOW:
https://Relentless.lnk.to/UvCEH
WATCH/ SHARE THE 'BUSSDOWN' VISUALIZER HERE:
 https://www.youtube.com/watch?v=zoMizaInA60
DOWNLOAD HI-RES ARTWORK & PRESS SHOTS HERE:
https://we.tl/t-Gc2iUDNVJG
Follow UKNWN here:
Twitter
Instagram
Twitch
For media enquiries please contact:
Kate Head: [email protected] // 0203 810 0410
Julie Smith: [email protected] // 0203 810 0410