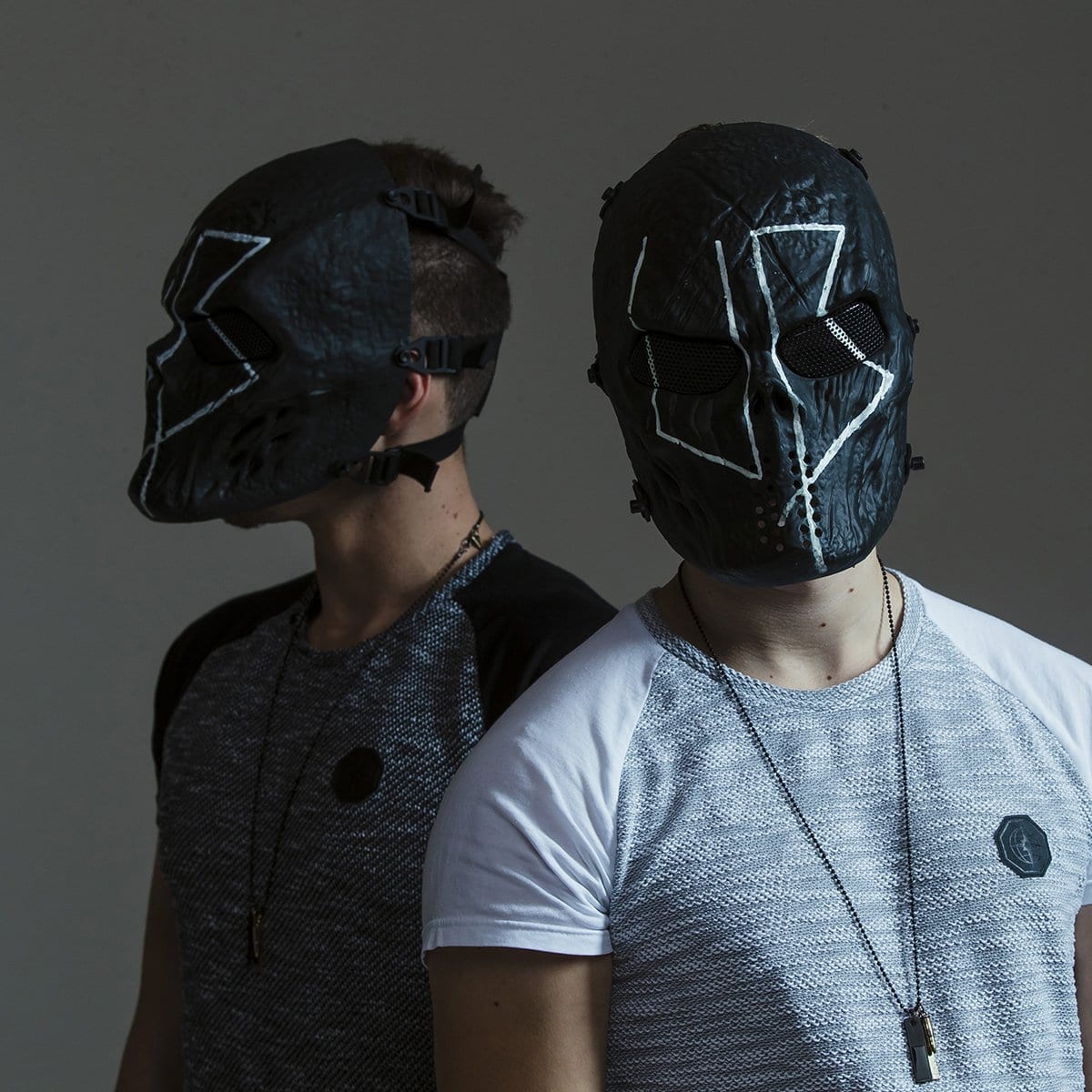 Unknown Brain reveal creative process behind new NCS album 'Faceless'
Over the past four years mysterious German duo Unknown Brain has risen through the ranks to become the shadowy Kings of the NCS empire. With gargantuan YouTube viewing figures that dwarf those of their peers and Spotify streaming numbers that place them firmly alongside the likes of Porter Robinson, What So Not and Cashmere Cat, Unknown Brain are the Future Bass heroes you've heard but probably don't know…
It's no surprise that Unknown Brain remains something of an enigma, even to the millions of music lovers familiar with their work. Hiding behind the anonymity of their trademark masks, the pair prefer to dwell in the depths of their mammoth bassline constructs, locked away in a studio creating beautifully melodic worlds that rise up like shining edifices from their bottom line foundations. Indeed, just take a listen through their discography over the past four years and there is a definite sense of dimensional storytelling to their music, something that has proven popular not just with NCS and its immense network of content creators but also labels like Spinnin' Records, Enter Records, Future Generation and Trap Nation. Whether crafting raucous trap bombs like their 2016 debut 'Superhero', 'Control' and 'Matafaka', anthemic trilogies like 'War Game', 'War Zone' and 'War Dream' or sumptuous Future Bass cuts like 'Inspiration', 'Why Do I' and 'Slow', the German act repeatedly strikes gold. 
And not just artistically or creatively either; in the cold hard light of day the numbers stacking up for Unknown Brain more than speak for themselves. Debut single 'Superhero' has, to date, an incredible 81million views on YouTube – and counting. Add to that 35million views for 'Matafaka', 16million for 'Inspiration', 31million apiece for 'Why Do I' and 'Control' and 10 million for 'Say Goodbye', and the size of Unknown Brain's reach and influence becomes clear. Over on Spotify the figures are just as impressive. With daily streams close to 400k and monthly listeners topping the 2.1million mark, Unknown Brain are poised to break through into the mainstream strata of electronic music. What happens to take them there, which single will raise their profile to the next level remains to be seen. One thing that is entirely certain, is that is only now a matter of time. I House U caught up with them to find out more…
Hi guys, thanks for joining us today. Congrats on the album! How long did it take you to pull it all together?
Hey, thanks for having us! Our new album 'Faceless' was the biggest project we've ever worked on. It took us around two years to produce and finish all the ideas we had since we decided that we wanted to do a full length studio/artist album. It's really exciting now we're in the final stretch to have everything ready to drop.
Did you set out to produce a full length studio album or was it something that evolved naturally as you started this particular period of work?
So we have had a private Soundcloud playlist called 'Faceless' since the beginning of Unknown Brain. We used to collect all our ideas and unfinished stuff in this playlist but for some reason we never thought about turning it into a complete album. As soon as we actually decided that yes, we'd start to work on an album, of course that whole collection of unfinished ideas was a really rich starting ground for us. We've now collected our very best unreleased songs from the last 2 years and turned them into an album.
You've had an amazing four years releasing through the NCS label – apart from obviously the album, what's been your biggest highlight with them to date?
Our biggest release 'Superhero' for sure! It's insane to see how this track has grown over time. I remember us going crazy when it passed the 500'000 view count, but it just kept growing. It's now at something insane like 88.5 million views and that's just on the NCS channel. I'm not sure what the count is when you include all the creator videos that have sync'd the single to it. That's the magic of NCS, they manage to get your music into an unbelievable number of creative hands all over the world, which of course helps your profile as producers grow.
Had COVID not happened, what were your plans for 2020? Did you have any album tour plans?
Yes, we planned to go on tour with this album. Unfortunately this couldn't happen but we are still really happy with how everything developed and turned out even without touring. It also really makes you appreciate what you have, when we do go back out onto the road I think we, like everyone else, are really going to relish the experience and give it our absolute everything.
How frustrating has it been to have to sit back and deal with all of this when your album's burning away?
It is quite frustrating because we were so excited to get out on the road and into the clubs and show our fans the energy we have in our live performance. But every cloud has a silver lining and because of Corona we locked ourselves in our studio and had more time to finalize the album and polish every song to the max. Either way, the feeling we want to deliver with our album is happiness, and that is what we all can do with now more than ever before!
Are you going to be able to translate those plans over to 2021? Where are you really looking forward to touring?
We don't know how long Covid will last and we don't want to promise our fans something that we can't plan yet. As soon as this pandemic is over you will definitely see us playing shows and you can believe that we have bigger visions than ever before for when we finally do!
Out of the tracks on the album, which one is your favourite and why?
We actually have different opinions here. One of us likes 'Let You Go' the most, because it's the first time we ever made that particular style so it's a new sound, a fresh sound. Its vibes are so hard and unique and yet with NotEvenTanners vocals it also manages to be emotional at the same time.
The other one of us likes 'Phenomenon' the most, because of its mighty & powerful vibes. It's probably the hardest & most badass track we ever made and when this one gets dropped live it's probably going to bring quite a few buildings down with it!
Almost every single single has a guest vocalist on there. How important is the topline to you?  
The perfect topline is really important for us. We love combining unique and experimental sounds with a pop vocal. That is kind of what defines 'Unknown Brain'.
Your sound has evolved on the album from previous work and there's definitely a more mainstream, pop feeling to it – was that a conscious move on your part?
Yes, it was a conscious move! We love focusing on quality and setting new challenges and limits to always improve our music. 'Simplicity is key'.
Did you have the majority of vocals down before the pandemic hit or did you have to produce the majority of it under lockdown?
It kind of was 50/50 but being under lockdown definitely helped us finalize which out of our songs we started would make it onto the final album.
What's next for you guys?
The album and our new masks are only the beginning of our journey and there is so much more to come…