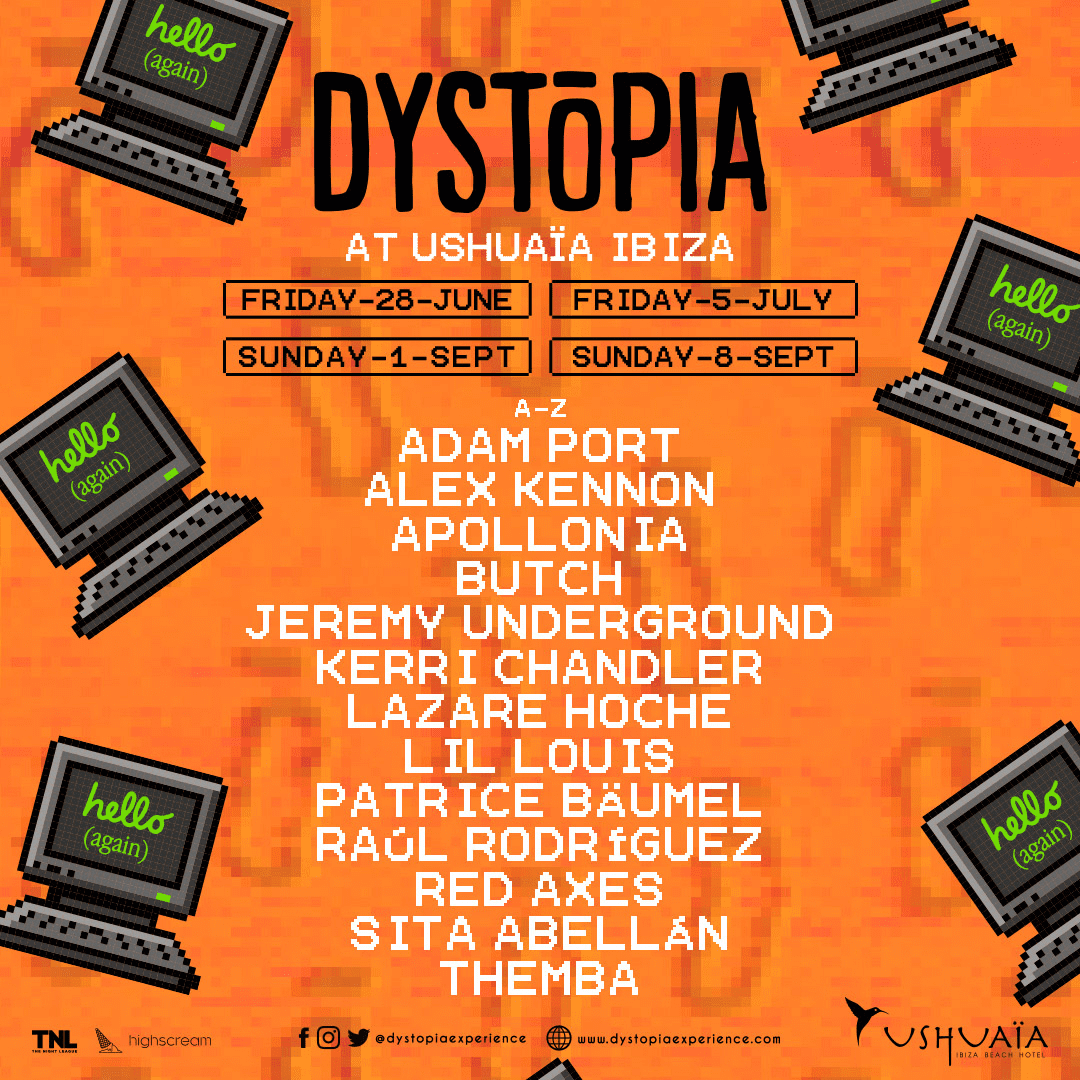 Ushuaïa Ibiza brings back successful art and music concept DYSTOPIA for four exclusive shows.
LINE UP (A-Z)
ADAM PORT – ALEX KENNON – APOLLONIA – BUTCH – JEREMY UNDERGROUND
KERRI CHANDLER – LAZARE HOCHE – LIL LOUIS – PATRICE BÄUMEL
RAÚL RODRÍGUEZ – RED AXES – SITA ABELLÁN – THEMBA
The future has been deleted. After crashing into Ushuaïa Ibiza in memorable style last year, DYSTOPIA returns for a series of four unmissable events centred around art and self-expression. Reality is an illusion as visual curiosities sweep through the open-air venue once again as music, live art and performances radically immerse revellers into a hub of creativity.
The world of DYSTOPIA is limitless. Who is in control? An interactive experience. As perspectives are transformed and the world is turned upside down, the party made Ushuaïa look like never before with a festival-meets-club feel full of bold art, wild performers and a hedonistic vibe. The audience is invited to explore their creativity and partake in this sensorial world, bringing out their eccentricities in any way they wish. Are you real?
Food trucks, a playground area for adults and chillout spaces all helped to make the venue feel like another world completely, with a soundtrack of house and techno with mystical, exotic twists.
This year will see DYSTOPIA hold court on four dates: June 28, July 5, September 1 and September 8. Full line-ups are yet to be revealed but artists confirmed across the parties far include the high-impact, tension-heavy sounds of Butch, king of US house Kerri Chandler, the dream team trio of Apollonia, Israeli trip masters Red Axes, French disco & house digger Jeremy Underground, melodic techno expert Patrice Bäumel, Germany's acclaimed Adam Port and house legend Lil Louis. Ushuaïa resident Raúl Rodríguez also features, along with France's fast-rising Lazare Hoche, self-styled 'techno princess' Sita Abellán and South Africa's master Themba (who is resident at Black Coffee's night at Hï Ibiza this summer).
After DYSTOPIA travelled the world with shows in Tulum, New York and another date in Isreal on June 27th, The Night League, the team behind Ushuaïa Ibiza, raise the bar once again with another unique offering added to their stunning summer schedule of sought-after events.
Are you alive or just existing? Don't miss these four incredible parties guaranteed to be among the most dazzling of the season.
The jewel in Ibiza's party crown, Ushuaïa's dedication to bringing the most-sought-after names to their world-famous stage ensures they remain one step ahead of the game every time. Based on the experiences gathered over the years, Ushuaïa Ibiza is dedicated to providing the best outdoor entertainment possible. The legendary poolside parties have been drawing in the crowds ever since the very beginning. The team behind the #1 open-air club raises the bar ever higher, with an impeccable lineup of superstar residents from across the electronic music spectrum playing from daytime to midnight. Not just content with packing their nights full of world-class artists, Ushuaïa Ibiza constantly outdoes itself when it comes to phenomenal productions, with a different theme each night of the week. With incredible pyrotechnics, mind-blowing lighting, visuals and a state of the art sound system, not to mention the beautifully designed gogo costumes, as well as an abundance of confetti, streamers and CO2, it's no surprise people flock from around the world for the inimitable Ushuaïa experience.
TICKETS & ROOMS: www.theushuaiaexperience.com