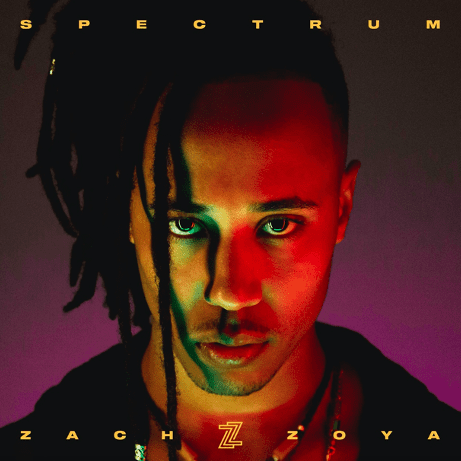 Zach Zoya Releases Visuals For His Collaboration With Angel
Montréal rapper/singer/songwriter Zach Zoya collaborates with UK's R&B king Angel on 'Patience', taken from Zach's brand new 'Spectrum' EP, a collection of energetic Hip-Hop, Intricate Rap and emotive R&B songs, showing off Zach's versatility.
When regarding the UK R&B scene, Angel is a name that is at the forefront of those conversations, having topped the R&B charts as well as achieving a number of UK top 40's from being a vocalist on tracks to writing them for others, he has written for the likes of Stefflon Don, Moneybagg Yo and Frank Ocean.
"Patience" is a mid-tempo R&B reflection on the struggle between chasing success and being present enough to enjoy the process.  The official video for 'Patience' was filmed in Montréal and directed by Zoya's close collaborator Le GED (the creative visionary also behind the "Slurpee" and "In Da Way" music videos).
Speaking on the collaboration Zach says 'Patience' is a precious song, it's the highlight of the EP for me," says Zoya. "It's about the long and tough road to happiness and the paradox that comes during that chase. I talk about that in the song when I say, 'Every time I think of joy, I lose a little' and 'If I keep chasing happiness I'll never find it, I think it's just a matter of where your head is at.' This song is me trying to remind myself that I'm in happiness right now, living this journey."
Spectrum also contains three new tracks and is co-produced by a trio of heavy hitting Toronto producers – JUNO Award winner Matthew Burnett, Grammy Award winner Boi-1da and Multi-Platinum selling producer Don Mills.
Zoya's melodic approach to songwriting is evident throughout the EP and is complimented by Angel's talent too. Zoya uses both his intricately woven percussive rap bars and smooth, expressive vocals throughout the EP. This was born out of his experience of being a French-speaking teen who fell in love with American hip-hop. While he couldn't understand the English lyrics, Zoya understood the emotion of the song through the universal language of melody. When he began writing his own music, he began shaping lyrics into their own melodic or percussive instrument. "I'm very focused on phonetics and how interesting a phrase is sonically. That's always been part of my process," Zoya explains.
His ability to write unique replay-worthy rhymes, create elite visuals, effortlessly flow from rapid rap verses to smooth R&B vocals, and deliver high-voltage live performances leaves no room for doubt that Zach Zoya is an artist to watch.