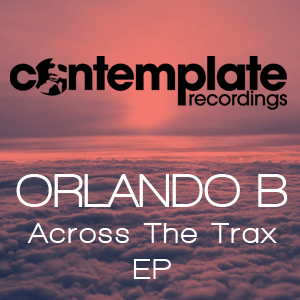 Orlando B - Across The Trax EP
Orlando B returns to his deep house sound which gained him recognition with EP's on Yore, Undertones and Seven Music.
This time he brings us three contrasting house cuts on his new label "Contemplate Recordings" which will now be the primary output for his deeper productions.
Title track "Across The Trax" kicks things off with a funky, down-tempo house joint which recalls Jose Rico's Downbeat label and some of Rick Wade's deep productions. Every element perfectly placed to get you nodding your head or swinging your hips. Jazzy, smoky keys provide most of the melody while a syncopated hat and shaker rhythms offer a playful exchange with a gliding sub bass completing the package.
"Night Walker" is a stripped club tool designed to move bodies in the dance. Techy stabs and more inventive percussion interplay should get you wiggling uncontrollably and with the odd metallic fx flourish we're kept locked in till the very end of the track.
"Jimmy's Groove" takes up the entire B-side and is a classic sounding deep house affair with plenty of musical flair. Bringing to mind the golden years of house music, think MBG, Rudolpho, Wyndell Long. The main motif, a rising jazz chord is played throughout over a solid house kick and bass line. Classic piano and string chords, an emotive vocal sample and noodling saxophone all playing a part in this 9 minute epic.
Presenting us with three different takes on deep house, this EP will have something for everyone. Whether it be in the club or for home listening. An essential addition to the record bag.
Available from all good record stores on 12" vinyl only including:
www.juno.co.uk/products/orlando-b-across-the-trax-ep/593795-01/
www.redeyerecords.co.uk/vinyl/69354-ctp01-orlando-b-across-the-trax-ep
www.rushhour.nl/store_detailed.php?item=86914
www.piccadillyrecords.com/prod/OrlandoB-AcrossTheTraxEP-ContemplateRecordings-106873.html
www.deejay.de/CTP01_-_Orlando_B_-_Across_The_Trax_Ep_-_12inch__207796