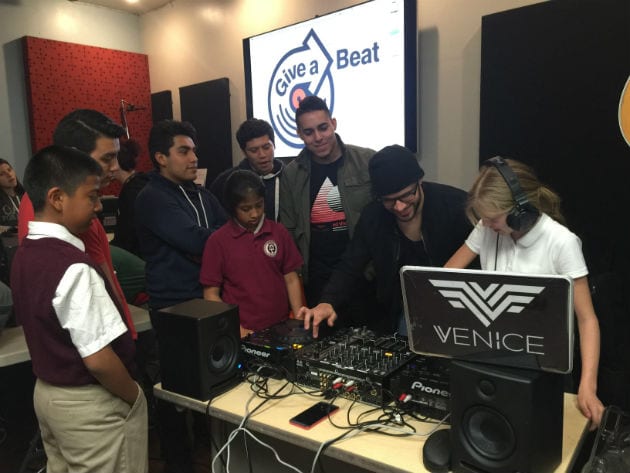 Electronic Duo Venice Partner With Give A Beat To Teach Music Production Workshop For At Risk Youth In LA
Alex Marrero and Gino Souto of electronic music duo Venice, recently partnered with dance music non-profit Give A Beat, to teach a music production workshop for at risk youth in Los Angeles at the South Central LA youth center and non-profit, A Place Called Home. The Venice workshop was part of an ongoing initiative on behalf of Give A Beat and A Place Called Home to foster creative expression in youth through the fine arts by providing electronic music education programs.
The event was a great success as participants were given the opportunity to learn how to mix tracks and get their hands on music production equipment, many for the first time in their lives. The children appeared to be delighted to play DJ, and were all smiles for the hour and a half workshop. Venice along with Give A Beat and A Place Called Home strive to create continuous social change in local communities and throughout the world via creative expression in music!
"Partnering with A Place Called Home & Give A Beat was an incredibly rewarding experience! The opportunity to give back and do something for these kids, even in the slightest detail of teaching them music production, made it completely worth it for us. We wish programs such as these existed when we were kids, and we truly look forward to being involved in future projects!" -Alex Marrero & Gino Souto of Venice
Give a Beat is a California based organization that serves as a catalyst for social change by bridging global electronic dance music culture with youth and families impacted by incarceration. More info: www.giveabeat.org
About Venice: Having joined forces in 2014, Alex Marrero and Gino Souto have steadfastly established a name for themselves in the global electronic dance music scene as DJ/Producer duo Venice. Given their relatively short time frame together as a duo, the young artists have amassed impressive milestones of success. 2015 saw the first label release for Venice on Black Hole Recordings sub-label AVA Recordings, entitled "Always Here" featuring the vocals of Anki.
The progressive trance track received notable support from Andy Moor, Lange, Giuseppe Ottaviani, Somna, Dimitri Kechagias, Photographer, Andi Durrant and more. "Always Here" was featured ​as song of the week on Andy Moor's "Moor Music" #153 and was the tune of the week on Transmission Radio #032, garnering an enormous amount of fan support. Venice made their Insomniac Events debut at EDC Orlando 2015, serving as their most memorable performance of the year.
CONNECT WITH VENICE:
Facebook: www.facebook.com/VeniceEDM
Twitter: www.twitter.com/VeniceEDM
Soundcloud: www.soundcloud.com/iloveVenice
Instagram: www.instagram.com/VeniceEDM
Snapchat: VeniceEDM
CONNECT WITH ANKI:
Twitter: www.twitter.com/AnkiVocalist
Facebok: www.facebook.com/LokkaVox