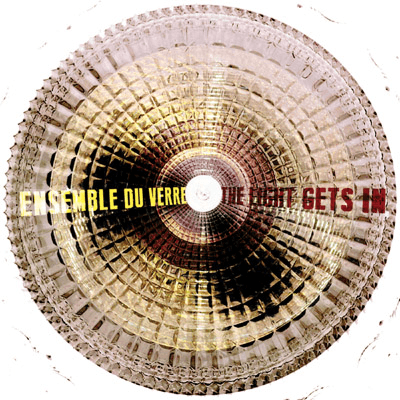 ENSEMBLE DU VERRE – The Light Gets In
The needle descends onto vinyl. From soft crackle and clicking evolve rhythm and melody, vocals set in: "Can you see the cracks – just look for the cracks! /There are cracks in everything – that is how the light gets in!". The music on the new album of "Ensemble Du Verre" develops like a kaleidoscope. Figures emerge and change. Drums, percussion, double bass, saxophone, guitar and fender Rhodes, even vocal parts are being reflected repeatedly, echoed as programmed samples and merged with their origins like pieces of glass in a rotating tube. The broken beats and jazz-influenced rhythms align one with their contemplative approach. A meditative aura runs through out the eleven songs on this album. "The conceptional origin was classical spiritual jazz from the late 1960s and early 1970s, with artists like Alice Coltrane and Pharoah Sanders and "the album's title "The Light Gets In" alludes to this time", explains Sönke Düwer, creative head of "Ensemble Du Verre". "This basic idea becomes very clear, for example in the song "Light" where I play this typical "Philly Joe" Jones-Beat " This merges with almost free-jazz saxophone-lines and a gospel-inspired choir. All of this is paired with electronics."
"Ensemble Du Verre" are no newcomers. Their first album for the label Compost Records is already the sixth "Ensemble Du Verre" – release. The third album "Sanctuary For Animals" received the "Preis der deutschen Schallplattenkritik" (German Record Critics' Award) in 2008. Sönke Düwer was born and brought up in Hamburg, Germany and is a descendent of French exiled Huguenots by the name of Du Verre. He studied popular music and jazz in Hamburg and Berlin, played with free-jazz-artists like Alexander von Schlippenbach and the American poet Ursula Rucker. A musician in constant conversion, within his own projects "Ensemble Du Verre", its offshoot "Energie Du Verre", "Groove Galaxi", the jazz-pop-poetry-project "Eden", solo aka "A Green Meadow" as well as member of the "Mojo-Club-Band". As an experienced music docent he also shares and passes on his profound knowledge.
The multi-instrumentalist whos main instrument is drums, composing, producing and operator of his label "Batterie" Düwer opens another chapter of his versatile creativity with "The Light Gets In". Once again Düwer composed and produced the songs down to the last detail. "The ensemble is not a constant band, it has always been a network and works very well as such." This time around double bass player Jakob Dreyer from Hamburg (Torsten Goods, Nils Landgren) and the saxophone players Brit Penrose Feast who already appeared on the last "Ensemble Du Verre" album "The Contemporary Cowboy" and Stefan Kuchel (Roger Cicero, NDR big band), who is also Düwers co-leader on the project "Groove Galaxi".
And then there is the magnificent singer Schirin Al-Mousa. This classically trained jazz-singer brings her infectious warm soul-sound and jazzy resilience to the record. Sometimes she sounds casual, almost random, again in emphatic spoken word- songs like "Dare" she immediately gets under the skin. Jazz icon Mark Murphy said "I hear a big voice!" certifying her promising talent. "The Light Gets In" is her first original album release. She enthusiastically accepted the challenge to work within the context of electronic-oriented music. Schirin Al-Mousa composed her metaphorical, ethereal lyrics articulating the words with her multifarious voice. She essentially contributes to the mood of the songs.
"My biggest problem as a musician is, that everybody assumes: drums equals rhythm and that's that" Düwer laughs. "As a composer and producer I think completely differently. The drummer steps back, sometimes disappears completely." For example in songs like "Choose". Altogether naturally the drums stay the special something. "Also, for me, as a means of innovation. But in some songs it is on the shelf. The point is more how the melody should be, so that one's heart opens up. I'm more interested in the atmosphere of a song than in how I can condense it."
As an example "Cracks", the first song on "The Light Gets In", "This song started everything. The bar had been set for all the other songs. All that mattered was how I could achieve more essence. I don't think I'm individuating as a drummer on this album."
It is going to be exciting, when "Ensemble Du Verre" will introduce its new album on stage. As a trio, with Oliver Sonntag on drums and Schirin Al-Mousa, vocals. Sönke Düwer improvises to this live, with different programmed elements. "This is a highly complex process. I can't play drums on top of that.". The music of "The Light Gets In" lives in-between the polarities : the improvised electronics, the drums and the singer. " Who will empirically gain the most attention with the audience."