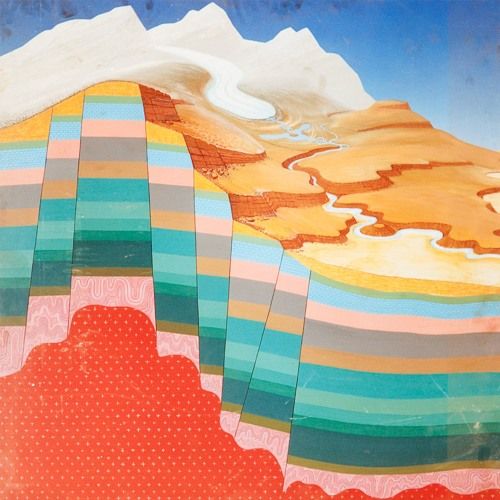 STUFF. - Galapagos
Belgian Electronic / Jazz outfit share their latest track "Galapagos"- a four and a half minute Tour de force.
The band's highly anticipated new album 'old dreams new planets', released 28th April on Sdban Ultra, is a cross genre groove, spanning broken hip-hop, electronica and jazz-influenced future funk, bringing forth a completely different and exciting sound.
With fans that include Plaid, Kev Beadle, Kutmah, Lefto and Gilles Peterson, STUFF. began life in 2012 when drummer Lander Gyselinck was asked to play live music in-between DJ sets. Collecting together like-minded musician friends, they would keep the vibe of the room bubbling, with spaced-out jams and improvisation, taking elements of funk, RNB, electronica, jazz and hip-hop, forming their own compositions as a result.
Hotly tipped in Belgium as one of the country's brightest new hopes, they released their first EP the same year, which included the track D.O.G.G. and it caught the attention of bloggers, 22tracks and DJs across Paris and Brussels. Supports slots with D'Angelo and Robert Glasper soon followed and the band would go on to share the stage at the Dour Festival with Hiatus Koyote, Flying Lotus and Lefto.
In 2014, STUFF. were invited to perform a Boiler Room session for the prestigious global, online music broadcasting platform, the first European live band to do so.
The band's self-titled debut album, released in 2015, received critical acclaim, with the Belgian press citing the release as the "record of the year" and "the best thing that happened musically in Belgium since the last 25 years". Mastered by Daddy Kev (Flying Lotus, Thundercat, Jon Wayne), several tracks from the album received airplay on leading dance and electronica radio stations across Europe, and included support from Gilles Peterson on BBC Radio 6 Music and Phil Taggart on BBC Radio
STUFF. have performed sold out shows across Europe and have gained a growing reputation for their explosive eclectic live sets, playing over 150 shows on such diverse stages as the North Sea Jazz Festival (Netherlands), Pukkelpop (Belgium), Secret Garden Party (UK), Shambala festival (UK), Dimensions (Croatia) and Fusion (Germany). The band were also personally invited by Gilles Peterson to perform at On Blackheath, London.
Accolades in Belgium include two MIA's (Belgian Music Industry Awards) for 'Best Musician' (Lander Gyselinck) and 'Best Artwork' (Rinus Van de Velde).
STUFF. are Andrew Claes (ewi/sax), Lander Gyselinck (drums), Joris Caluwaerts (keyboards), Dries Laheye (bas), Mixmonster Menno (turntables)
Live in the UK in April 2017:
Wed 12th LONDON Assembly Hall, Camden
Thur 13th LEEDS Lending Room
Fri 14th MANCHESTER Band on the Wall
Sat 15th BRISTOL The Old Malthouse
Sun 16th BRIGHTON Rose Hill
http://www.stuffisthebandname.com/
https://twitter.com/36STUFF
https://www.facebook.com/STUFF.isthebandname