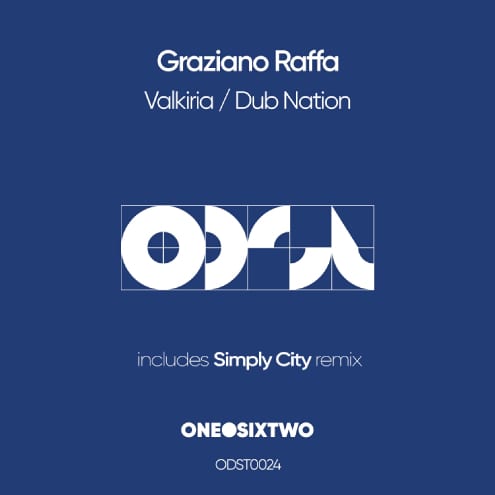 Graziano Raffa debuts on Tripswitch's onedotsixtwo label with a super-stylish 3-Tracker
Throughout these difficult times, Tripswitch's onedotsixtwo platform will do its best to keep the positivity flowing and continue to bring together the finest global talent, guided by its mission to release the most excellent Proper Progressive House music.
Many will already be acquainted with the immensely multi-talented, Barcelona-based, Italian-DJ / Producer / Sudbeat Label Manager named Graziano Raffa, whose unbounded passion and dedication for the scene shines a light for everyone. Graziano's global reputation is ever growing and it is an immense honour to unveil his latest spectacular musical creations as he makes his onedotsixtwo debut.
Opening track 'Valkiria' exhibits a masterful intricate arrangement as it effortlessly builds its groove-riding, smile-inducing, melodic magnificence – subtle and energetic, with just the right amount of clever twists to turn heads everywhere. Meanwhile, 'Dub Nation' has the strutting, confident bounce of an artist supremely in control of his art, as Graziano ups the energy level with a teasing, pulsating beast of a groove that showers beautiful sparkling stardust far and wide.
Cesar Romero started his musical journey playing the clubs and raves in his native Santiago, Chile, before touring extensively across various continents and locking down a coveted resident DJ slot and launching his own night at the famous Stereo nightclub in Montreal. Under his Simply City moniker he is also a much-respected producer and his immaculate remix of 'Dub Nation' shows exactly why. Riding on glorious low-slung groove, topped with spacious layers of soothing, tripped out, melodious beauty the Simply City Remix is the perfect finale to this supremely accomplished collection of creative excellence.
Beatport: https://www.beatport.com/label/onedotsixtwo/62965
Spotify: https://open.spotify.com/playlist/7KYcPhkt1YwtiNklyKZJz0
Bandcamp: https://onedotsixtwo.bandcamp.com
More Info:
https://www.facebook.com/grazianoraffaofficial
https://www.facebook.com/SimplyCityOfficial