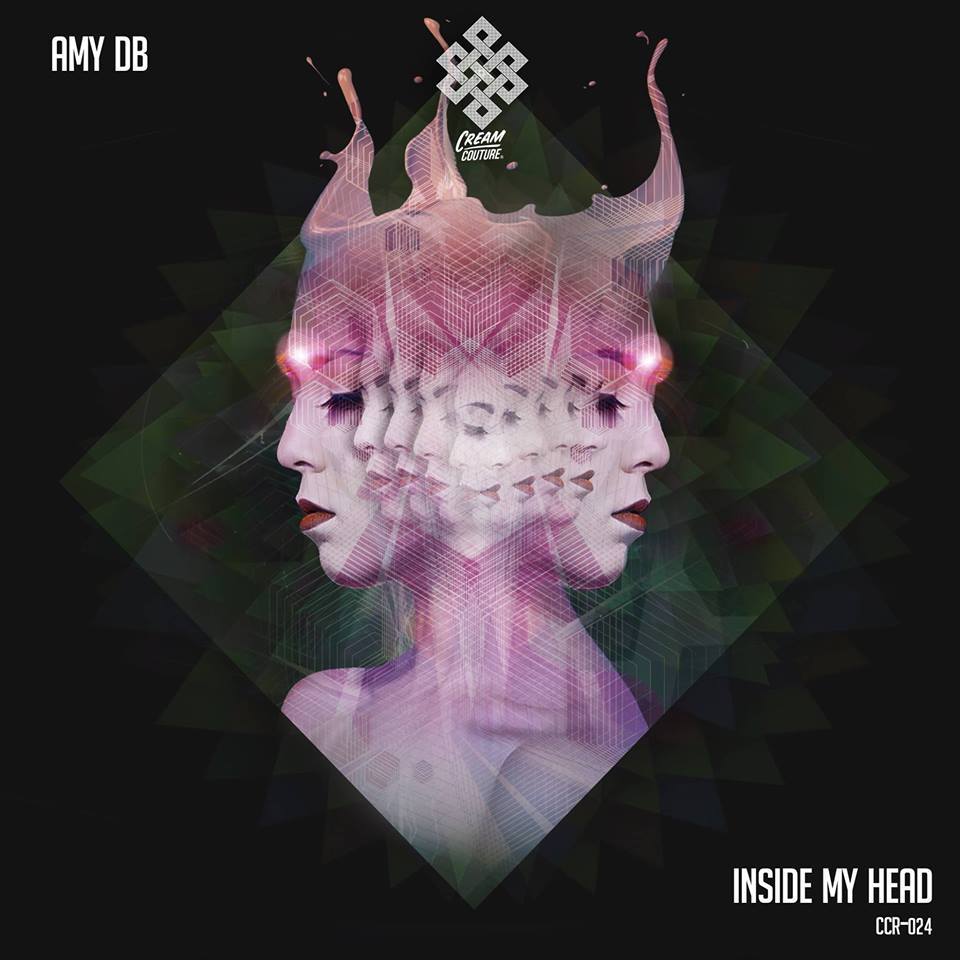 Amy DB - Inside My Head
Cream Couture returns with Amy DB's "inside my head" EP. Hailing from Chicago, Amy has cast an international shadow with tour dates around the world. "Inside my head" shows off Amy's Chi-town roots and her progressive aura with a driving swing, thick kick and snare with signature "Diva" vocals produced by legend Cesar Funk.
the second track "L'amour" produced by powerhouse duo Amy dB and Tinez featuring Moroccan vocalist, OB, Stays true to modern tech house, with an insane drive built around the booming kick and shaking hats, featuring shimmering pads, ominous vocals and synths. All in all we at Cream Couture are pleased to add this well rounded EP to our catalog and welcome Amy to our label.
"Music is who I am; the rest is what I do." Her proprietary mantra imbues all of Amy dB's essence.
She boasts an ostensibly comprehensive corpus of work and talent relating to music, starting in the foundational years of her life.
Officially number 1 IBIZA Electronica artist of Reverb Nation, as well as the number 2 in Spain after dear friends, the powerhouse Chus and Ceballos, Amy proudly represents the female artist as well as the deep and progressive sounds at her spring DJ residency at SANKEYS IBIZA. Feats such as headlining shows at Miami World Music Conference, being selected as the only femme DJ and underground DJ to headline the Miami 100 year birthday celebration, featuring Gloria Estefan, Andrea Bocelli, Flo Rida and the like for 600,000 people during Miami Music Week are just few examples of her bustling international career. Amy joined the esteemed roster for the artist agency for the Americas, Clandestine Artists, which includes names like Sven Vath, Seth Troxler, Hot Since 82, Robbie Rivera, Pete Tong etc to represent the deep and progressive house producers.
Her DJ sets comprise headlining top discotheques and fests around the world, as well as having shared decks with Robert Babicz, Sasha, Dave Seaman, Cattaneo, DJ Rap, Oakenfold, Derrick Carter, Steve Aoki, Paul Johnson, Ron Carroll, Shiba San, Roger Sanchez, Dave Morales, Cassius, MANDY, and Dave Dresden. She is also known for recently deejaying with the legendary demigod of electronica on tours with Madonna, the legend Paul Oakenfold.
In fact, Robert Babicz, globally esteemed for being top producer of Bedrock, Perfecto, Hope, Paramount , Columbia Records and the mastermind behind DJ software Native Instruments, has not only named Amy as his pick for top femme DJ world but has been in collaboration to tour together with her.
Soundcloud numbers of 17K, 20K, 30K listens alone are testament to her monolithic and soul-inspiring, cathartic music. Her sets transport the listener on a transcendent and elevated musical journey, coursing within the veins a rush filled with mystique and sublimation.
Amy dB's EP's and tracks are top releases of respected labels like the 19 yr old esteemed Soundmen on Wax, Music Evolution Records, Kinddome Kut , and can be found as Popular Releases by clicking the link below:
https://pro.beatport.com/label/soundmen-on-wax/12616)
It is no wonder Amy is now esteemed as one of America's most respected femme underground mixing deejays and music producers, all from having started her music career at the precocious age of six whilst joining her grade school's chorus and taking up piano lessons. Her talent in voice and musicianship led her to be named second place Soprano in the State of Illinois. Propelled with this momentum, Amy matriculated into Northwestern University pursuing three degrees and joining the honor level choirs within venues that range from the Chicago Symphony Center, Millennium Park, Carnegie Hall, and Lyric Opera House to name a few.
Upon graduating university, she introduced the ever growing yet fledgling scene of house and electronica within the American social forefront, years before they became globally famous. Her pioneering insight and visceral fortitude hinged on educating the masses about true artistry and music, impelling celebrated production pioneers like Spundae, Godskitchen, and Pure Future to retain her services as consult for an indefinite time. Learning on vinyls and mastering CDJ mixing, she played in Las Vegas as well as Chicago's Lollapalooza during its inception year during her first two years of deejaying alone. Within three years deejaying, she secured feats like performances at the fledgling years of the BPM festival in Mexico as well as headline shows at Winter Music Conference Miami in the Americas as well.
Her brand management comprises the team of Prince Ale de Basseville of Normandy, who has managed and worked with several of the top talents in the world like the Gun's'n'Roses, Michael Jackson, Christina Aguilera etc… Her EU and Asia agent is Coll Selini of Promodality Group, a booker of top talents like Bob Sinclair, and founder of house music, Joe Smooth. Her USA commercial agent is the CEO of the incomparable billion dollar entertainment group Bill Cosby Media Group, headed by Amy's dear friend and huge fan, Leon Cosby III. She also sits on the esteemed UK/EU roster of the Sinners DJs agency, also housing names like Oakenfold, Erick Morillo, E Raze, Jackmaster Farley, Cassius, etc