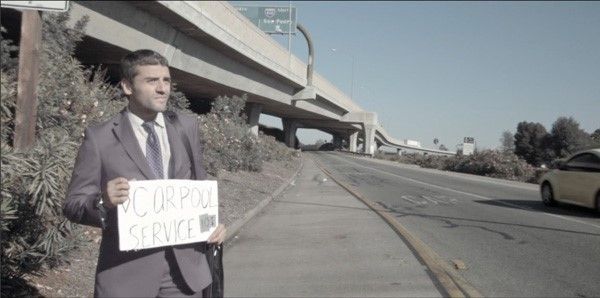 Trentemøller – Gravity
Right in time for the new single release "Gravity" taken from Trentemøller´s new studio album "Lost", we are now proud to present a brand-new video for this fantastic song with vocals contributed by Jana Hunter. The video explores new collaborative territory. Directed by Tue Walin Storm and Elvira Lind, it's set on the intricate, myriad freeways of Los Angeles and stars actor Oscar Isaac, who is known for his parts in Ridley Scott's 'Robin Hood', Refn's 'Drive' and plays the lead character in the new Coen Brothers movie 'Inside Llewyn Davis'. For his role in "Inside Llewyn Davis" Oscar Isaac is nominated for the Golden Globe Award as Best Actor – Motion Picture Musical or Comedy. The video is an homage to the great city of LA – a place where diversity is an understatement; a place full of vibrant characters from all walks of life; a place where even our Mr. Carpool can gravitate into his American dream.
The video is freshly premiered via Rolling Stone worldwide.
Trentemøller and his band soon to be back on the road!
After Trentemøller and his band finished their very succesful album tour through Europe last November, they are now ready for their upcoming tour in 2014! Amongst others on the agenda: Festival Antigel in Geneve, Sónar Reykjavík in Iceland, "Where The Wild Things Are" Festival in Zeewolde (Netherlands), Neue Batschkapp @ Frankfurt am Main (Germany) and the infamous Roskilde Festival in Denmark, where Trentemøller and his band are going to tak e on the Orange stage. Besides, Trentemøller´s concert at Roskilde will be the only chance to catch him in his country this summer! More tour dates to be announced soon´ish!
All tour dates:
14.02.2014 : : Switzerland : Geneve : Festival Antigel 2014 @ MOULIN À DANSES (MÀD)| buy here
15.02.2014 : : Iceland : Sónar Reykjavíc | buy here
04.03.2014 : : Netherlands: Groningen : De Oosterpoort | buy here
05.03.2014 : : Netherlands: Den Haag : Paard Van Troje | buy here
06.03.2014 : : Germany : Frankfurt am Main : Neue Batschkapp | buy here
07.03.2014 : : Netherlands : Zeewolde | buy here
08.03.2014 : : Denmark : Aarhus : VoxHall | buy here
28.-30.03.2014 : : USA : Miami : Ultra Musicfestival | buy here
29.06.-06.07.2014 : : Denmark : Roskilde : Roskilde Festival | buy here