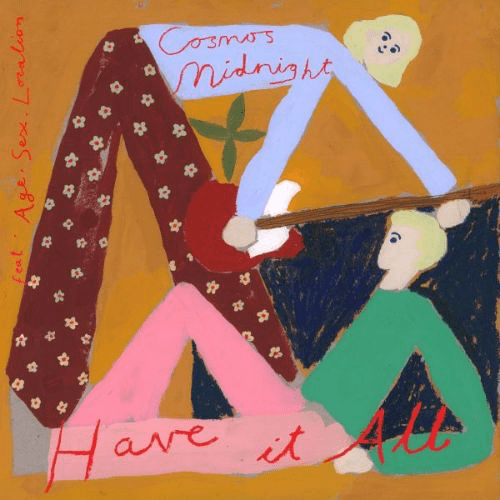 Cosmo's Midnight Shine With New Single & Video 'Have It All' OUT NOW
Recently stepping off a mammoth North American tour, Sydney duo Cosmo's Midnight aren't slowing down with their second offering of 2019 in "Have It All" feat. Age.Sex.Location, out today on RCA Records USA & Black Butter Records UK. 2019 has already hosted a multitude of accomplishments for the twin beat makers across St. Jerome's Laneway Tour, their biggest headline tour yet and a debut performance on Australia's biggest national radio station, Triple J's Like A Version.
Premiered on Triple J, "Have It All" debuts a distinctive disco-leaning sound unlike anything we've heard from the powerhouse producers, simultaneously dotted with the electronic, funk and pop elements that have seen them come to form as an adored acts. Collaborating with prominent songwriters in LA-based collective Age.Sex.Location, the duo's grooves are matched by a flirtatious vocal hook and compounded in spinning disco beats to make the body come alive. Guitar riffs and a brass sequence invigorate a new stage of euphoria, all combined with signature synth melodies and a thumping bassline to place the effervescent bop in the upper echelons of their collection. The single arrives with a charming film shot visual capturing the guys as they roam the streets of New York, interjected with scenes from a live show that night.
Cosmo's Midnight say of the single:
"'Have it All' is about crushing on someone hard and you're not shy to tell them. It feels right so the flirting flows hard n fast. The chorus basically sums it up "If you want it you can have it all" – to put it simply. Although it's winter now we wrote 'Have It All' just after Laneway in a hazy writing binge in with Shungudzo and John Ryan. We wrote 'Have It All' half in Sydney and then finished it off in Malibu. Kinda like 'C.U.D.I', we wrote it in a few hours all of us vibing out singing gang vocals into a dodgy mic. We had the best time writing and were pretty tipsy by the time we finished. Best bass line Cosmo has played yet we think."
Cosmo's Midnight returned earlier this year with catchy multi-million streamed single "C.U.D.I" (Can U Dig It) after a complete tour with St Jerome's Laneway Festival that followed a huge 2018. Their debut, Triple J Feature Album What Comes Next featured a stack of guest talent, including Buddy, Jay Prince, Winston Surfshirt, Tove Styrke and more, and was debuted in an all-new live show to multiple sold-out venues across Australia, Asia, UK & Europe. In a space of just 6 months, the duo have seen three of their glistening singles earn gold-certified status, including "Walk With Me", 'History' and 'Get To Know'. 2019 has also seen the duo's debut performance on Like A Version with a killer rendition of Moloko's 'Sing It Back', ahead of a wild national tour that saw sell out shows at Sydney's Enmore Theatre and Melbourne's The Forum.
Set to feed their loyal fanbase with infectious sonic treats throughout the months ahead, alongside upcoming sets at Splendour in the Grass and Listen Out, 2019 is queuing to be another year of Cosmo's Midnight. Catch their new single on a festival floor soon.